Montclair Power Washing & Roof Cleaning Pros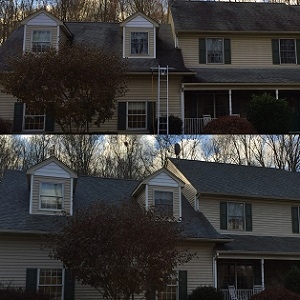 Your Montclair, New Jersey home will soon be ready for some Spring Cleaning! Warmer weather is sure to arrive soon and many homeowners will be cleaning up their properties after our fall and winter months of leaves falling, snow, ice, dirt, and grime. Call the Montclair power washing contractors at TruClean Wash for optimum results. We offer a variety of exterior cleaning services from window washing and roof cleaning to pressure washing a variety of surfaces.
There's no better way to get clean than with exterior cleaning services in Montclair from the New Jersey power washing professionals at TruClean Wash. Every surface on the exterior of your home can be professionally cleaned and renewed. Our services offer you great curb appeal and will enhance the look of your home.
If you want all the debris, dirt, grime, and stains removed and you don't want to do all the scrubbing, lugging around equipment, and finding the right solutions to remove that algae, mold, stuck on grime, and stains, all you need to do is pick up the phone instead.
Our power washing services offer you an excellent way to thoroughly and efficiently clean up your exterior surfaces such as:
Roofs
Decks
Patios
Walkways
Driveways
Garage Floors
Sidewalks
Fences
Windows
Siding
Outdoor Living Areas
and more
With our professional services, we do all the work and worry for you. Your home will be sparkly clean again so you can enjoy it with your friends and family.
Exterior Pressure Washing Services in Montclair
There's a lot of weather elements in our area of the U.S. That work together to turn the outside of your home a dull looking color. The wind, salt, sun, humidity, rain, dirt, sand, grime, and more pelt your home's exterior surfaces, embedding the soot into your fencing, decks, siding, roofs, and more. After time, the wood looks faded, painted colors get drab, and the dirt and stains start to build up.
Sometimes it's years before a homeowner really notices how drab their property is looking. That's because we see it every day and with that type of gradual change, it's hard to notice the changes. Unfortunately, it's really obvious to everyone else but the homeowner.
Take a fresh look at your property, and our bet is that it needs a good cleaning. Pressure washing will rid your exterior of all that dull grey, faded and drab unappealing dirty buildup that steals your curb appeal.
Importance Of Regular Metal Roof Cleaning

Metal roofing is noted for its unmatched performance, making it one of the best roofing options for your New Jersey home. Of course, to continue enjoying all the benefits that a metal roof offers, in […]

Important Reasons to Remove Rust from Your Metal Structures

If you own a metal building or other structure, then chances are you're going to experience the headache of rust development on that structure at some point down the road. When that point comes, you' […]
Reviews & Testimonials on TruClean Wash in Montclair, NJ
Roof cleaning. The price was reasonable, they showed up on time, worked steady and professionally, and cleaned up at the end of the job. The roof looks great - all of the green moss and black streaks are gone. And all without pressure washing. I highly recommend Gregg Giordano and TruClean.
If you are looking for a professional Montclair power washing contractor for roof cleaning or other exterior cleaning services then please call TruClean Wash today.