FAQs by TruClean Wash - New Jersey Power Washing
What insurance does TruClean Wash maintain:
General Liability with Liberty Mutual
Umbrella Liability with Liberty Mutual
Workers Compensation with Hartford Ins.
Commercial Auto Insurance with Geico
Bonded with Western Surety
Can I get proof of Insurance before work is started:
Yes, Certificate of Insurance is attached to all our estimates.
Do we require a deposit:
Usually No, on larger jobs or some commercial jobs deposits may be requested.
How long have you been in this line of work:
We have been in the exterior cleaning business for over 16 years.
What type of cleaning solutions do you use:
Most of the cleaning solutions we use are biodegradable and eco friendly products; there are times when stronger solutions are needed to remove such items as rust, graffiti, oil, etc.
What process does TruClean Wash use to clean our home:
We are certified SoftWash Systems contractors and use this method, which is the preferred method of cleaning vinyl, hardy board, stucco, cedar shake and any material that might be damaged by using a pressure washer. We do use pressure washers to clean hardscape materials such as concrete, pavers, blue stone, black top, etc.
What is the difference between SoftWashing vs. Pressure Washing:
SoftWashing utilizes solutions to break down and clean the surfaces along with a high volume/low pressure rinse. This insures that the algae and mold growth is killed in areas you can't see and prevents damage due to high pressure.
Pressure Washing utilizes high pressure to blast off the algae and mold. This will remove some, but not all, of the growth and it will return much quicker than using the Softwashing methods. Pressure Washing can damage the surface because of the high pressure. It can also send water up and under the siding causing water damage to the insulation.
How long will the job take to complete:
Each job is unique in itself and TruClean Wash prides itself on being the best exterior cleaner. We will only call a job completed when all the areas have been thoroughly cleaned to the TruClean Wash specifications. Most jobs will be completed within 2 to 4 hours.
What are the details of the TruClean Wash 100% Satisfaction Guarantee:
You deserve the very best in cleaning services. TruClean Wash prides itself on providing a true 360° experience for its customers. We believe it's not enough just to be good at one thing but to be the best you have to be great at all the touch points with our customers.
The 360° TruClean Wash Experience means: From start to finish you will be 100% Satisfied. At the initial call into our office you will be met with a friendly live person to discuss your cleaning needs and answer all your questions, we will give you an accurate on time estimate for the work requested, usually within 24 hours of your request. If a delay is going to happen, we will contact you with an update. Our estimates include a detailed explanation of work to be performed along with a copy of our certificate of insurance, we also include a link to our before & after gallery and our testimonials. We will schedule the work at your convenience and work within your time frame. We will provide a window of arrival for the day the cleaning is scheduled. On the day of the cleaning a pre-inspection will take place and a review of the scheduled work will be confirmed. After our cleaning takes place a post-inspection will take place to make sure all areas have been cleaned. An invoice and paid receipt will be sent for your records along with a link into your jobs before and after gallery. A follow up call to insure your complete satisfaction is made along with discussing or schedule any future work or recurring needs. If for any reason your not 100% satisfied please advise us and we will rectify the issue.
Do you have a before & gallery of your work:
Yes, the TruClean Wash gallery can be found here
Do you have testimonials or references available for review:
Yes, the TruClean Wash testimonials can be found here
Do I need to be home when work is to be completed:
No, work can be completed withoutyou being present.
For exterior cleaning please make sure all windows are closed and locked
Water must be available from at least 1 outside spigot, TruClean Wash brings 550 gallons of water but we need to backfill as we use water.
If your home has outside screens that slide up and down please slide screens up approximately 3 inches from the sill. This will allow water to flush off of the sill easier and provides a better cleaning result.
Do I have to worry about plants and shrubs:
No, we are certified exterior cleanings and have never damaged plants or shrubs.
We use biodegradable and eco-friendly solutions. We take extra care to water plant life in and around your home.
We don't allow our lines to damage flowers or plants and will not walk on plant life. We treat your property as if it was our own. This is the only way to guarantee a Tru360° experience.
Do I need to provide water:
Yes, we do bring 550 gallons of water but will need to back fill our tank with a water supply from your location.
Do you use heated water:
Yes, if needed.
Most of our cleaning projects do not need heated water but our equipment has this ability if needed.
What are the black streaks on my roof:
Did you know your roof is not dirty at all, it's infested. Infested by tiny microorganisms that are dining on your roof like an all you can eat buffet. These algae, molds, mildews and bacteria are actually decomposing the surfaces they are growing on. Nature uses these tiny microorganisms to break down larger objects into smaller items eventually becoming part of the soil. This is called decomposition. Your roof and other surfaces around your property are being attacked and decomposed right before your very eyes.
In the past pressure washers were used to clean algae and mildew away from these surfaces. This is actually the absolute wrong thing to do. Water under pressure created the Grand Canyon by a process called erosion. Using a pressure washer and taking an eroder to clean away a decomposer, will actually accelerate the aging and decomposition of the roof and other surfaces you are cleaning with pressure washing. Pressure washing is old school and doesn't solve the problem of algae, mildew and bacteria staining.
Will the lichen and moss on my roof come off? How long will it take?
Yes, each roof is unique but aslong as the lichen and moss are treated they will dissipate and fall off this process can take up to 120 days. Lichen and moss are living organisms and have attached themselves to your roof but if properly treated they will detach themselves and fall off leaving a like new roof in there place.
Can I meet with you during the estimate process:
Yes, it is your choice to meet with us during our estimating process but it is not necessary to complete the estimate.
How is payment collected:
Payment is collected the day of the cleaning at the conclusion of work being completed. If other payment arrangements are needed this should be discussed at the time of scheduling.
We prefer check or cash payments,but can extend use of credit cards for payment.
Articles & Tips
Importance Of Regular Metal Roof Cleaning

Metal roofing is noted for its unmatched performance, making it one of the best roofing options for your New Jersey home. Of course, to continue enjoying all the benefits that a metal roof offers, in […]

Important Reasons to Remove Rust from Your Metal Structures

If you own a metal building or other structure, then chances are you're going to experience the headache of rust development on that structure at some point down the road. When that point comes, you' […]
Our latest projects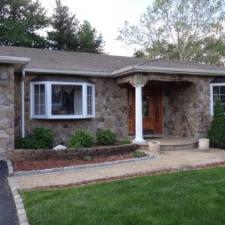 ---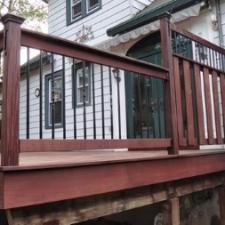 ---
If you are looking for more information from our New Jersey power washing company, please call TruClean Wash today.