Slate Roof Cleaning Service In New Jersey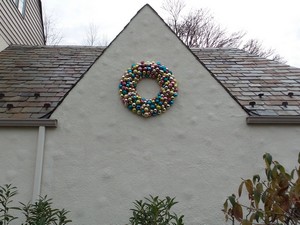 Your beautiful slate roof will need to be cleaned from time to time to renew the look and protect the surface. A good seasonal cleaning from our New Jersey Power Washing pros is all you need to keep the slate roof in good condition.
Roof debris can be destructive to roof shingles, even when it's a durable shingle like slate. It's not good for the roof if tree junk builds up and sits on the slate. The discoloration you see is a sign of future problems. With regular roof cleaning services, all that potential damage is kept at bay.
To keep your slate roof in good shape, call TruClean Wash. Take a look at how we handle cleaning a slate roof and then contact us with questions or for an estimate. We offer 100% professional service that you can always rely on.
Free Upfront Estimates
Satisfaction Guaranteed
Safe & Effective Slate Shingle Cleaning
Eco-Friendly Cleaning Solutions
We Soft Wash Your Slate Roof
TruClean Wash uses a soft washing technique that is safe for your slate roof. You have already invested enough in your home, so there's no need to cause roof damage when there are safe ways to clean it. This process involves applying an eco-friendly cleaning solution to the slate shingles which loosen the set-in stains.
When combined with low-pressure power washing, this treatment works very effectively. The stains and years of discoloration will be removed so that the original color of your slate roof is restored.
White Stains On Your Slate Roof?
Sometimes white stains appear on slate shingles. The slate stains to a lighter color due to the mineral efflorescence or salt content of rainwater. White stains signal trouble for a slate roof, so call a roof cleaning professional soon and then regularly thereafter. The mineral content of the rainwater often causes problems over time.
Articles & Tips
Importance Of Regular Metal Roof Cleaning

Metal roofing is noted for its unmatched performance, making it one of the best roofing options for your New Jersey home. Of course, to continue enjoying all the benefits that a metal roof offers, in […]

Important Reasons to Remove Rust from Your Metal Structures

If you own a metal building or other structure, then chances are you're going to experience the headache of rust development on that structure at some point down the road. When that point comes, you' […]
Our latest projects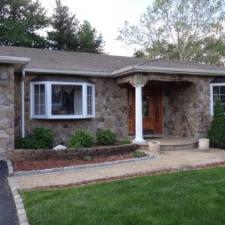 ---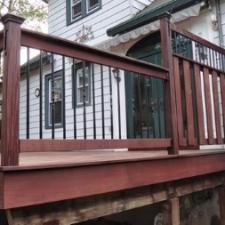 ---
TruClean Wash is always available for slate roof cleaning service in New Jersey. Give us a call, call TruClean Wash today.