Carlstadt Power Washing & Roof Cleaning Service Contractors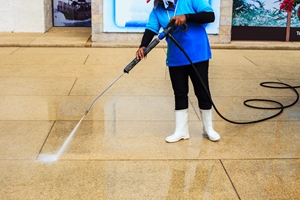 If you have begun to notice dark spots on your roof or siding then it is time to get the assistance of the Carlstadt power washing and softwashing professionals at TruClean Wash. Those dark spots are more than just grime and dirt, but are also a sign that you are getting build-up of harmful organisms like mold and algae which feast on the organic components of your home. This can cause serious problems for your roof as it accelerates its degradation, which means its more likely that you will have to replace it in the near future. Similarly, mold and mildew on your fence can be made a thing of the past with a visit from one of our power washing contractors.
An annual visit from a New Jersey power washing professional is a great way to protect the investment of your property. Keeping the outside of your Carlstadt home clean helps maintain your property value, while unsightly rust and grime building up on its exterior can cause it to plummet, potentially even harming your homeowner's insurance. We can handle any softwashing or power washing project, and return the luster to any Carlstadt home or business.
Carlstadt Gutter Cleaning
If our Carlstadt power washing and softwashing contractors are paying your home a visit, it is the perfect time to take advantage of our gutter cleaning services as well. Your gutters will build-up grime and mold over time that can be difficult to remove and will lead to clogging and leaks as it begins to hinder water flow. The best way to keep that from happening and have your gutters working their very best year round is by having your gutters cleaned regularly.
Our experienced Carlstadt pressure washing contractors use only the best proven techniques to eradicate grime from gutters, no matter their build material, we can have them looking and functioning like new. We stand by the quality of our work, and guarantee you will be thrilled with the results when you contact the best in Carlstadt gutter cleaning services with a call to TruClean Wash.
Carlstadt Softwashing
TruClean Wash can do more than basic pressure washing and roof cleaning for your Carlstadt home or business. We also happen to be the area experts at providing the best in Carlstadt softwashing services. The softwashing services that we provide are safe to use on stucco, wood, vinyl, dryvit, brick, and even concrete homes. When nasty grime and mold have begun to blacken the outside of your Carlstadt home, you need to get it removed before it becomes a bigger problem. Our Carlstadt softwashing professionals can eliminate any unsightly grime from the side and roof of your home.
If you would like to have your Carlstadt home looking like new, contact TruClean Wash for safe softwashing services that can stop the buildup of harmful organisms that can cause damage to your roof, siding, and decrease the value of your home. With a single visit, our softwashing contractors will completely revitalize the exterior of your home.
Importance Of Regular Metal Roof Cleaning

Metal roofing is noted for its unmatched performance, making it one of the best roofing options for your New Jersey home. Of course, to continue enjoying all the benefits that a metal roof offers, in […]

Important Reasons to Remove Rust from Your Metal Structures

If you own a metal building or other structure, then chances are you're going to experience the headache of rust development on that structure at some point down the road. When that point comes, you' […]
Reviews & Testimonials on TruClean Wash in Carlstadt, NJ
There are currently no reviews or testimonials for Carlstadt, NJ. Check back soon!
If you are looking for a professional Carlstadt power washing contractor for roof cleaning or other exterior cleaning services then please call TruClean Wash today.