Summit Power Washing, Soft Washing, & Roof Cleaning Contractors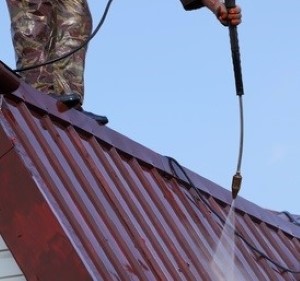 In order for you and your family to enjoy your home to the utmost, the exterior of your property must be well maintained and clean. In order for customers and clients to be attracted to your business, your commercial property must present an inviting and professional image. At TruClean Wash, our Summit power washing and roof cleaning contractors are here to help you with all your exterior property cleaning needs.
Our professionals are adept at power washing, roof cleaning, soft washing, window cleaning, rust removal, and more. In every service that we provide, we work our hardest to achieve the best possible results. Our Summit pressure washing contractors want you to know that you can trust us with all your present and future property cleaning needs.
Call TruClean Wash today if you need to hire a New Jersey power washing or roof cleaning contractor in the Summit area. Our polite and knowledgeable staff would be happy to assist you in any way that we can. We can answer any of your questions and can schedule your appointment today.
Pressure Washing Customized to Your Property
Our Summit power washing contractors take an immense amount of pride from our work. As such, we are not satisfied unless we achieve the best possible results. In order to do so, we always customize our cleaning method to the unique surface and stains that we are dealing with. As such, you can feel confident knowing that our services will leave your property exquisitely cleaned, while protecting and preserving the underlying surface.
Roof Cleaning Services in Summit
A dirty, stained, and unsightly roof can drastically detract from the appearance of a home. Cleaning a roof without the property training and equipment is an extreme hassle. At TruClean Wash, our Summit roof cleaning contractors are here to help.
Our professionals are adept at soft wash roof cleaning. As such, we have the capability to lift the most embedded stains from the most delicate roofing systems. With our help, the roof of your Summit home or business will once again look its absolute best.
Commercial Exterior Property Cleaning Services in Summit
At TruClean Wash, our company is proud to provide a full line of commercial exterior property cleaning services. The look of your commercial impact has a direct effect on how potential clients and customers view your business. If your property is unsightly, they will question your professionalism and the quality of your products and services. Our professionals can develop a routine exterior property cleaning schedule that will ensure your business always looks its absolute best.
Importance Of Regular Metal Roof Cleaning

Metal roofing is noted for its unmatched performance, making it one of the best roofing options for your New Jersey home. Of course, to continue enjoying all the benefits that a metal roof offers, in […]

Important Reasons to Remove Rust from Your Metal Structures

If you own a metal building or other structure, then chances are you're going to experience the headache of rust development on that structure at some point down the road. When that point comes, you' […]
Reviews & Testimonials on TruClean Wash in Summit, NJ
Gregg and his crew did an excellent job! They power washed the whole house including front porch, back porch, walkway, patio, shed, patio furniture and swing set.The house looks brand new. Gregg was very professional. I received an estimate by email but he still did a walk through upon arrival to see if there were any other issues or concerns. They were very efficient. I would definitely recommend them and use them again.
If you are looking for a professional Summit power washing contractor for roof cleaning or other exterior cleaning services then please call TruClean Wash today.