The #1 Contractor for Softwash Roof Cleaning in New Jersey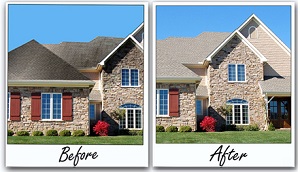 One of the most difficult areas of any property to keep clean is the roof. First, getting to the area is hard in and of itself. Second, lifting stains from the roof's surface without causing damage is a delicate and precise task. At TruClean Wash, our New Jersey softwash roof cleaning contractors are here to assist you with this responsibility.
Our professionals understand how important your home or business is to you and your family. As such, we are honored by the fact that so many local residents and business owners have trusted us over the years with all their roof cleaning needs. In every service that we provide, we honor this trust by working our hardest to achieve complete and total customer satisfaction.
If you want to hire a New Jersey roof cleaning contractor who will bring this dedication to excellence to task for you, call TruClean Wash today. Our courteous and polite staff would be happy to take your call. Our soft washing experts can answer any questions that you may have about this amazing service. We can schedule your appointment today.
What is Softwash Roof Cleaning?
Softwash roof cleaning (also often referred to as just softwashing/soft washing) is by far the most recommended cleaning method for delicate roofing systems. Instead of relying on high pressure jets of water to blast away stains, soft wash roof cleaning utilizes a gentle stream of water and a customized blend of biodegradable chemicals to lift stains from the surface of a roof. In this way, our professionals can restore your roof to its original beauty while protecting and preserving the underlying surface.
Black Roof Stains Cleaned by the Soft Wash Method
One of the most common property cleaning complaints is about black stains on the surface of asphalt shingle roofs. These black stains are actually a form of algae. The algae grows on areas of the roof that remain moist throughout the day, slowly eating away at the surface of your shingles.
Softwashing a roof is the best way to address black algae stains for two reasons. First, asphalt shingle roofs are too delicate for traditional power washing in New Jersey . Second, the chemicals that our New Jersey soft washing contractors use actually kill the algae embedded into the surface of your roof.
As such, when you hire use to conduct soft wash roof cleaning services on your property, you are guaranteed to achieve the best possible results. Your roof will look absolutely fantastic. Your shingles will not be damaged in the process. The algae will take much longer to reappear because of the chemicals we use. You are guaranteed to be pleased with the results.
Articles & Tips
Importance Of Regular Metal Roof Cleaning

Metal roofing is noted for its unmatched performance, making it one of the best roofing options for your New Jersey home. Of course, to continue enjoying all the benefits that a metal roof offers, in […]

Important Reasons to Remove Rust from Your Metal Structures

If you own a metal building or other structure, then chances are you're going to experience the headache of rust development on that structure at some point down the road. When that point comes, you' […]
Our latest projects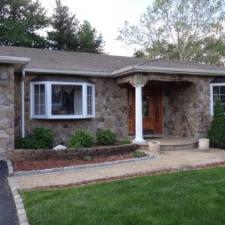 ---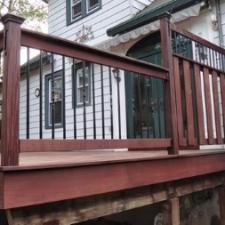 ---
If you would like an estimate for softwash roof cleaning in New Jersey or the surrounding areas, please call TruClean Wash today.