Reviews for TruClean Wash, Your New Jersey Power Washing
Customers love TruClean Wash! Trust your cleaning needs to the #1 Roof and Exterior Cleaner in New Jersey!
Read reviews of TruClean Wash and testimonials from clients who have hired our professionals for exterior washing services such as roof cleaning, window cleaning, and general power washing in the New Jersey area.
Outstanding job on house and deck. House looks like it was just painted. Highly recommend this professional company. Thank you Greg and Anthony.
We could not be happier with the service, quality and extra touches provided by TruCLEAN. They even washed the outdoor furniture we had moved aside so they could clean the patio. Everything looks great - our roof looks like a new installation. And the price was outstanding. Great service. Great price. Great job.
Professional and courteous. My house looked great!
Gregg was incredibly responsive and responsible. He did a great job on the windows. He checked the work of the guy doing the inside windows after he completed the outside windows. It was perfect.
Outstanding job. What a difference. Highly recommend.
Our house looks a few shades lighter after Gregg and the crew worked their magic! I highly recommend TruClean.
Good quality work with reasonable cost. I will use their service next time.
Provided exterior cleaning for my home, deck, walk ways & fence. Gregg and his team at TruClean restored the beauty to my home, I am so thankful I hired them. Once I requested an estimate I received a confirmation via email, this email explained who would be performing the estimate, with his picture, in my case it was Gregg the owner. The report went on to verify the companies insurance and that all employees undergo a background check. This immediately made me feel very comfortably with TruClean and it also gave me a clear picture who would be showing up to perform the estimate. The day of the estimate Gregg arrived on time wearing a TruClean uniform and name badge, very professional I must say. During the estimate he asked about my concerns of what needed to be cleaned and provided several estimates to include and exclude certain things, this allowed me to customize my cleaning needs. I did receive several other estimates and although TruClean wasn't the cheapest nor the most expensive, they were certainly the most professional and flexible. The work was scheduled and TruClean arrived on time as scheduled. The owner Gregg was with his crew of 3 and they proceeded to clean all the areas I chose to have cleaned, TruClean uses a soft wash method to clean and really produced an unbelievable result. I plan on hiring them to clean my roof this coming spring. Thank you TruClean you really are the best!
Softwash roof cleaning. Truclean gave me a great price and arrived as scheduled to clean my roof. I was amazed at how clean my roof came out, all the black streaks and green algae was completely removed. The roof looks new! I highly recommend Gregg and his team at TruClean they are very professional.
Truclean washed all the windows of our house. They were exceptional, very professional, very accommodating and did an amazing job. We will definitely use them on a regular basis
We had been waiting months to have our gutters cleaned before winter. Our gutter person kept canceling. Our neighbor was having Truclean do their gutters and we asked the worker, who was the owner, if he could do ours. He made the time to do our gutters at a reasonable price. He did an excellent job. No mess to clean up. We will use him again and he will clean our windows in the Spring.
TruClean / Gregg Giordano cleaned our leaf packed gutters.I met Greg Giordano / Truclean while I was visiting a neighbor. She was having all of her windows cleaned inside and out. I took his card and proceeded to call him about a month afterwards. My friend had a great experience with Greg / truclean and his team. My initial impression was that this company (his son was with him and one other person) was clean, polite and organized. Their equipment, truck, personal attire and manner of speech and politeness were unusually refreshing. I called Gregg about a month after meeting him and he promptly estimated and sent me a very fair quote via email. The quote was professional,friendly and gave an estimated date for work to be completed. Keep in mind we are talking about a $65 job. I replied "yes!" to the estimate. All work was completed in a very professional and timely manner as agreed. I was so pleased that I forwarded his contact info to several friends. We all know it is difficult to find reliable contractors. Truclean / Greg Giordano are now in my contacts under "Gutters, window cleaning." I'm not sure of the other services he provides, but know my friend who used him for windows, also had him clean a chimney. TruClean is an excellent company and please know this is my first time on Angie's list and am considering joining. We are in Morris County NJ , have lived in our home over 20 years and have used many gutter services. We look forward to using TruClean again.
Power wash the outside of the house, clean the windows, and clean pavers in back yard. Gregg responded immediately to our request for a quote. Upon thoroughly reviewing the details of the house, he took the time to explain the process in detail and also provided his recommendations. His crew came to our home on a weekend and did a superb job and even hand cleaned each outside window. His crew was professional and on time. We would highly recommend TruClean to anyone who wants a trustworthy and professional cleaning service!
I used TruClean. He pressure washed the side of the house, the front of the house, the floor and the gutters. He may have done part of the roof, but I didn't go up to look. The service was really good, I am going to hire them back. I have only used them once or twice. They are fast, they are completely thorough, and their price is very good compared to others.
Power wash patio an clean gutters. They did an excellent job. We had just bought the house and the patio looked like it had not been cleaned for 20 years. They made a big difference. They also were very thorough with our gutters.
They cleaned our gutters, cleaned and power washed the gutters, eaves, siding and cleaned the windows. As an extra, they even power washed our walkway to the house and the entry landing. I found this company to be very reliable, neat, efficient, friendly, helpful and cooperative. They even took down some old decals on my daughter's windows and power washed a bin on the deck where we kept our cushions for our outdoor furniture. The whole experience was excellent! I also had other quotes and one, tried to pressure me into making an immediate decision to go with him. He started high and kept coming down, but the price I received from TruClean was fair, and came in in the middle of the quotes I received and there was no pressure to make a decision. They even had a brochure which none of the others had. I would highly recommend this company and would definitely use them again in the future!
Cleaned entire house and gutter as well as walkway and steps. House looks like we just put on new vinyl on it... "looks brand new" the gutters were covered in black stuff, they also look new now! Walkway and steps are beautiful! The owner/operator Gregg is very professional prompt! House looks awesome!
They came on time ,worked very efficient and did an excellent job on my house. They where need, very professional, friendly and polite. Will hire them back in a heartbeat.
Gregg and his crew did an excellent job! They power washed the whole house including front porch, back porch, walkway, patio, shed, patio furniture and swing set.The house looks brand new. Gregg was very professional. I received an estimate by email but he still did a walk through upon arrival to see if there were any other issues or concerns. They were very efficient. I would definitely recommend them and use them again.
Roof cleaning. The price was reasonable, they showed up on time, worked steady and professionally, and cleaned up at the end of the job. The roof looks great - all of the green moss and black streaks are gone. And all without pressure washing. I highly recommend Gregg Giordano and TruClean.
Soft washed roof, washed and brushed house, soft washed deck and Pavers.I contacted TruClean based on reviews that I read on Angie's List to request an estimate. Scheduling an appointment was very easy! Gregg Giordano came to home on April 17th, he was prompt and was professionally dressed with the TruClean uniform. He introduced himself, gave me a little background history of the company and told me how TruClean soft wash is better than power washing a roof. He was actually impressed that I had conducted my own research of soft washing. :o) Gregg asked to walk around the property so that he could assess the condition of the roof. While walking he asked my budget for the roof cleaning, at that moment I didn't have any idea, except I didn't want to give up my right arm and leg to pay for it. He mentioned that he could possibly work out something that could include my roof, house, and deck for less than $600.00; because he noticed they also need much attention. I asked to itemize the estimate so I could have my husband look over it and that I would be in touch. The estimates are emailed as not waste paper and I received it within seconds to Gregg leaving my property. After locking in the contract Gregg worked with my schedule on when the cleanings would take place. As I had a tree service that needed to be completed before TruClean could do any work. Gregg was very accommodating and replied to all my emails promptly. On June 3rd the day of service the group consisted of Gregg, Nick, Joe, and Phil, extremely professional. I had to leave my home for a few hours and had not made it back home by the designated time. I had forgotten to close my windows and they patiently waited as to not wet the inside of my home. As a little bonus they even washed my pavers... Beautiful Job! Overall, these guys are AWESOME!!! I would recommend to anyone. Ask for Gregg- Very professional works within your budget and then some. Thank you TruClean for hiring such a wonderful team of guys!
TruClean scrubbed the gutters, leaders and vinyl siding first before power washing. TruClean arrived on time and explained the cleaning procedure to me. The house needed a thorough cleaning and I was very happy with the results. Very professional and happy with the service. Would highly recommend TruClean to anyone.
Soft cleaned asbestos siding, vinyl siding, and the painted surfaces of the exterior of the house. They cleaned all of the concrete in the front, side and back of the house. They secured a loose board of vinyl siding under a drain leader. Soft cleaning takes a great deal of care and I didn't find many contractors who offer the service. In our case, the paint was very thin. Gregg spoke to me about his concerns and we talked in great length about options. These conversations cinched my decision to work with him and his crew. Gregg listened and responded respectfully while I gave him feedback about unexpected communication delays. This characteristic of a businessman is one of the most important parts of building a solid working relationship. For this reason alone I would recommend his services. The work they did finished up my preparations to show the house. It was clean and ready! They price was on target.
Gregg cleaned the windows inside and out plus the screens, cleaned the exterior of the home (not just power washed but with brushes), cleaned the roof and the deck.Gregg's professionalism is excellent. I couldn't be happier with the outcome. The grungy cedar siding now looks beautiful and my windows are sparkling. I was also impressed by how he managed the entire job without depleting the water in our well. the dark stains on the roof a completely gone. I would highly recommend his services.
Power washed and oiled my very large Ipe deck along with my front and back porches, also made of the Brazilian hardwood Ipe.Gregg answered my original phone call for an estimate within a matter of hours and promptly showed up the very next morning looking and acting in a very professional manner. He owns and operates his own commercial power washer vehicle and did an exceptional job cleaning my Brazilian Hardwood Ipe decks. Most people have never heard of Ipe Brazilian Hardwood, however, all of the other so called "professionals" that came to my home pretended that they knew all about the care and maintenance of Ipe and each of them were completely off-base and recommended all of the wrong cleaning and staining methods. Gregg did not try to B.S. me in any way. He relied on my own knowledge and research and volunteered to learn all he could to keep the beauty and integrity of our decks. We both agreed that a new formula called simply Ipe Oil which I purchased independently, would be the perfect oil stain, since a finish product is totally wrong for any type of hardwood such as mahogany or Ipe. Gregg did an exceptional job and even though we had several weather delays, I am 100% satisfied with his professionalism and expertise and I wholeheartedly recommend his company to any one who needs any type of home/deck cleaning and/or staining/oiling. I do however recommend you give Gregg plenty of time in advance to schedule your projects, as he is quite booked in advance.
Perfect!! Cleaned entire house and windows inside and out, the house looks like I just built it.
I used TruClean last June to clean the house and the roof. It was excellent. They told us what they would do and they did it at the price they quoted and it was done quickly.
Tru-Clean power washed my roof and cleaned out my gutters. The roof had patches of moss, lichens & algae & gutters were clogged.Roof looks fantastic! Moss, algae, lichen.....all treated and gone or soon to be history(moss has to fall off after treatment but definitely a goner). I had a couple of loose shingles so was concerned about power washing- with their soft wash system, the roof is clean and all the shingles are in place. I am very happy. Thank you! Will be using them on another property in a few days & look forward to the results. In addition, the crew were polite and cleaned up the property -except for a few puddles & a clean roof, would not have known they were there!
Gregg was extremely professional and punctual, he was very detailed to what I was paying for, the job came out much better than i expected, not only i will use him every year going forward, but i will highly recommend him to any one who needs the services.
Soft washed entire exterior of home. Gregg and his team arrived at the appointed time. I was pleasantly surprised to see that the boss, Gregg, was part of the team. They went to work immediately and completed the work in under two hours. They were careful to protect shrubs and trees near the work site. We were pleased with the outcome and would recommend TruClean to others.
Noticed that house exterior was looking a bit grungy, thought I might need to repaint. Instead I had TruClean come out and soft wash the house, gutters and deck.Everything was great; very pleased with the professionalism, courtesy and the results. Gregg came out as part of the crew and supervised the whole thing. The team really knew what they were doing... if you don't or don't have the right equipment you can hurt wood siding or damage paint. These guys were real pros, knew just what to do to get the house cleaned up and in great condition. Seriously it looks like I had the house repainted. All the dingy spots especially on the light trim and gutters are gone and the place looks great. It only took them 2.5 hours to do everything.
Gregg and his crew did a very nice job. They are professional, polite and to the details. When the work was done, my house looked like brand new. Thank you guys!
Gregg and his team did a FANTASTIC job at my house. The estimate was done with care and attention to detail, and Gregg is very personable. The estimate followup was prompt, as was the scheduling. The team arrived on the date of service on time and excited to get to work. I am so impressed with the quality of the work done. The house, roof, patio, driveway and walkways all look AMAZING!! Gregg and the team took their time to clean everything very carefully, and they succeeded in removing some tough stains from my siding. I enthusiastically recommend TruClean and will definitely be hiring them again!!
The company power washed our house, washed our roof and cleaned our windows and screens. Tru Clean power washed our house and deck, washed our roof and cleaned our windows and screens. TruClean did a very good job on all the services. They were able to perform the work in a very short time from our initial request, they were prompt, courteous and efficient. They also power washed two of my sons' houses, also with very positive results. My wife was very happy with the window cleaning, which was much better than a previous service we had used. Their prices are very competitive with other service providers. We will use them again in the future.
It seems to have gone very well. There are certain areas that need the passage of time to complete the job. Some areas need rain to wash away any remaining stains.
TruClean soft washed our 14-year-old roof, removing all the black streaks, moss, and lichens.Gregg did a wonderful job explaining the process, and then carrying it out. It looks like an almost new roof. He made sure that the brand new landscaping wasn't harmed by the chlorine, and he told my landscaper that in over 700 roofs, he hasn't lost a bush or tree yet.
Power washed house; cleaned the gutters and washed extras that weren't even included in the price (back patio/steps and front steps). EXCELLENT in every way. Courteous, efficient, great job. The house and steps and patio look good as new. Very nice guy.
Fast & Reliable Company. My Grandmother Grace recently passed and the family put up her house for sale in Hackensack. The house itself was in great shape but the driveway was a stained mess and the roof was not only dirty but had a lot of moss growing on it where the trees had been hanging over for years. The aluminum siding was also looking pretty nasty, truth be told. We called a few companies and TruClean was the first to respond. To be honest, their price wasn't the cheapest (it was more or less in the middle) but Gregg was so friendly that we decided to use them. I'm very happy we did as the results are fantastic. Gram's house looks better than it has in years! The driveway looks brand new, the roof is clean and the siding looks great! Even better, the real estate lady we're using said the improvements should help us to get 5% more for the place! So to Gregg and the team at TruClean we'd just like to say "thanks for the great job!
A team of 3 mean cleared all the debris away from the house and spent hours cleaning the house. They used a special process on the roof, not powerwash, so as to not damage the shingles. My house looks brand new. Even the gutters are clean inside and out. I am really pleased with the results!
I was not home at the time of the house washing. Easily made payment arrangements and when I came house the house was sparkling. Couldn't have been easier and more convenient. Will definitely use you in the future.
Thank you Gregg. My house siding, roof, gutters, ramp and patio look new. Your professionalism and attention to detail was truly appreciated. 100% recommendation to use your TruClean Services.
Very Professional. Will use them again.
We have been using TruClean for our gutter cleaning needs. Always professional, friendly and knowledgeable from their customer service to the technicians. Today, I had the pleasure of speaking with Omri who impressed me with going above and beyond the usual amazing phone service. Paul and Vin also went above and beyond today while servicing our home. We have some additional projects that need attention in the Spring - TruClean will definitely get those jobs!!
Articles & Tips
Importance Of Regular Metal Roof Cleaning

Metal roofing is noted for its unmatched performance, making it one of the best roofing options for your New Jersey home. Of course, to continue enjoying all the benefits that a metal roof offers, in […]

Important Reasons to Remove Rust from Your Metal Structures

If you own a metal building or other structure, then chances are you're going to experience the headache of rust development on that structure at some point down the road. When that point comes, you' […]
Our latest projects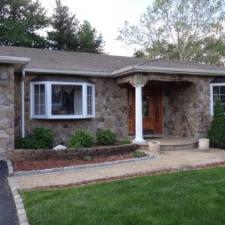 ---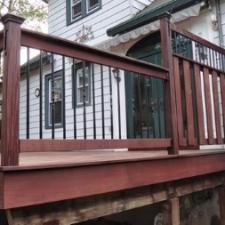 ---
For more reviews of our New Jersey power washing company, call TruClean Wash today.