Your Bogota Power Washing & Roof Cleaning Service Contractors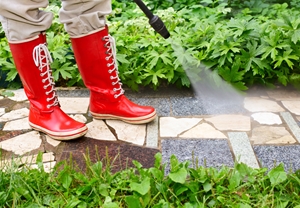 Your roof is under attack by New Jersey weather year round, and this barrage can take its tool without proper cleaning. Grime and buildup will begin to show unsightly black marks on your roof, which can devalue your home and even cause serious damage. These stains can often be harmful organisms like mold, mildew, and algae that have been using the organic components of your shingles as a food source! These organisms are eating away at more than your shingles, as they can even cause your roof to become less energy-efficient, costing you heating and cooling dollars that could have otherwise been saved. If left unattended, mold and algae can cause lasting damage to your roof that will require expensive repairs. Don't let this happen when the local Bogota power washing and roof cleaning experts are right around the corner at TruClean Wash!
If you would like to keep your roof looking great year round, all you need is a visit from our professional Bogota power washing contractors. Pressure washing a roof should never been done by the untrained, as it can cause serious damage to your shingles that can lead to leaks and other problems. TruClean Wash has the right tools and training for the job, and can use much safer softwashing methods to avoid the potential for any damage to your home while rinsing away that ugly grime. We only use environmentally friendly chemicals as well that eradicate harmful organisms but are completely safe to the environment. When you're ready to see the difference our softwashing and pressure washing services can make, contact the cleaning professionals at TruClean Wash.
Bogota Exterior Commercial Building Cleaning
If you run an Bogota business you want its exterior to remain as clear as possible. If the outside of your business is beginning to show signs of mold, fungus, grime, or even developing insect problems, you need to get it cleaned right away by a local New Jersey power washing professional. If the exterior of your business is dirty it will keep some customers away. A good impression is the most important one you make, and doubly so when it comes down to a business. Make certain that you are giving the best first-impression by keeping the exterior of your Bogota business looking clean and professional.
Investing in a visit from TruClean Wash for power washing and softwashing services will have the exterior of your Bogota commercial building looking fresh and new, and is a good step to increasing customer flow through your front door. We can adapt our services to the needs of any commercial customer, using only the best environmentally-friendly cleaning agents. Presentation is everything, and TruClean Wash can give yours a clean new look.
Bogota Concrete Cleaning
When your concrete sidewalk, patio, or driveway is beginning to show its age, there's an easier option than replacing it to increase your home's visual appeal. Even if you've overlooked this grime and dirt that has accumulated over the years, you will be amazed at the difference that a visit from one of our Bogota pressure washing contractors will make.
Unsightly mildew, debris, mold, and oil will build up on your concrete and create ugly grime that can be difficult to remove. By conducting the right kind of maintenance from an experienced pressure washing contractor, you can eradicate all of this unsightly build-up. We can use special pressure and softwashing techniques to remove this grime without any threat of damage to your driveway, sidewalk, or patio. You should contact TruClean Wash for any of your pressure washing needs!
Importance Of Regular Metal Roof Cleaning

Metal roofing is noted for its unmatched performance, making it one of the best roofing options for your New Jersey home. Of course, to continue enjoying all the benefits that a metal roof offers, in […]

Important Reasons to Remove Rust from Your Metal Structures

If you own a metal building or other structure, then chances are you're going to experience the headache of rust development on that structure at some point down the road. When that point comes, you' […]
Reviews & Testimonials on TruClean Wash in Bogota, NJ
There are currently no reviews or testimonials for Bogota, NJ. Check back soon!
If you are looking for a professional Bogota power washing contractor for roof cleaning or other exterior cleaning services then please call TruClean Wash today.