Asphalt Shingles Cleaning Service In New Jersey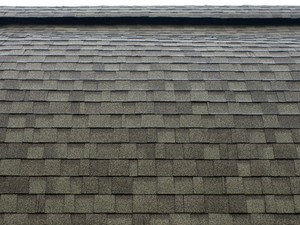 Our asphalt shingle cleaning service in New Jersey will help your roof stay strong and beautiful. At TruClean Wash, our experts use various roof cleaning techniques to remove debris and stains from asphalt shingles.
We use environmentally-friendly cleaning solutions that won't harm the environment and are safe for the asphalt shingles. We can get rid of years of grime that dull the look of your home.
As asphalt shingles age, they get more vulnerable to high-pressure roof cleaning, so we give the roof a good soft wash instead. Our pros use the best and safest technique according to the age of the roof, the type of grime involved, and the type of surface we clean. If you are ready to call in the professionals, call TruClean Wash for an upfront estimate.
Honest, Upfront Service
100% Satisfaction Guaranteed
Roof Cleaning & Soft Washing
Black Roof Stains Gone
In case you didn't know, those black or green roof stains are actually a byproduct of algae. The stains happen after algae digest the limestone in the asphalt for food. So wherever you see those black roof stains, the asphalt shingles are getting damaged.
The stains will expand until it completely covers the roof in the shaded areas if it isn't cleaned off. Moss does the same damage to asphalt shingles. A seasonal roof cleaning service keeps the destructive algae and moss off the roof of your home. Plus, it really makes your home look great.
Sparkling Clean Asphalt Roof
Once we have removed all the roof stains and grime from your asphalt shingles, you will really be surprised at how different your home looks. We can restore the light color of rooftop with a soft wash technique that does no damage the asphalt shingles.
After seeing what we can do, our customers often exclaim that they had forgotten what the roof looked like when it was new. There is no better way to make your home sparkle again than by calling our TruClean Wash pros.
Articles & Tips
Importance Of Regular Metal Roof Cleaning

Metal roofing is noted for its unmatched performance, making it one of the best roofing options for your New Jersey home. Of course, to continue enjoying all the benefits that a metal roof offers, in […]

Important Reasons to Remove Rust from Your Metal Structures

If you own a metal building or other structure, then chances are you're going to experience the headache of rust development on that structure at some point down the road. When that point comes, you' […]
Our latest projects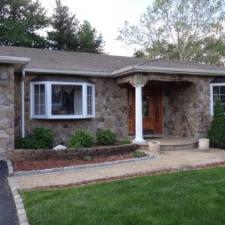 ---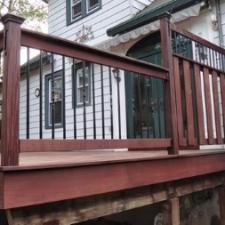 ---
For more information about our Asphalt Shingle Cleaning Service in New Jersey, please call TruClean Wash today.