Maplewood Power Washing & Roof Cleaning Pros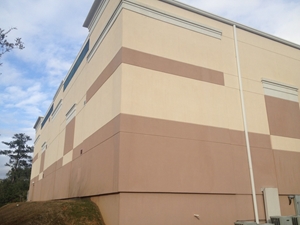 The exterior surfaces of your Maplewood, New Jersey home have been exposed to many weather conditions that cause it to get dirty with the buildup of grime, sand, dirt, and more. Years of foot traffic and build up of dirt and grime can really grind in the dirt into your sidewalks, driveway, porch areas, and decks.
Often, the only real way to get the surfaces cleaned up is with a professional power washing in Maplewood, NJ. This high pressure cleaning service completely removes the embedded dirt and stains that dull out the look of the surfaces, making them look new again. In fact, we often find that the owner can go a significant time longer before having to repaint.
Power washing is the best method to increase your curb appeal quickly. All the debris is also removed from the surfaces which also assists in making the building materials last longer. And the name to trust for all your exterior power washing and softwashing needs in Maplewood? TruClean Wash. From pressure washing sidewalks and siding to window and roof cleaning services, our team of New Jersey power washing professionals have your exterior cleaning needs covered.
When things like leaves, tree blooms, twigs, soil, acorns and other natural materials gather on your roof, it will start to rot and will cause problems for your roof that otherwise wouldn't be an issue. Keeping the roof clean and other areas of the home where this debris tends to gather will help the building materials last longer and will help you to control or avoid insect infestation.
Softwashing Technicians in Maplewood
If your home is older or some of the building materials on your home are aging, they may be more delicate and need a softer technique than full powered pressure washing in Maplewood . We use a system of cleaning for these more delicate surfaces.
Softwashing is a technique that effectively cleans and scours away dirt and stains without the use of full force pressure washing. While the method uses stronger pressure than you can get from your garden hose, it's safe and friendly to your building materials as well as the environment.
We use green, eco-friendly solutions partnered with a lower pressure wash to get your home's exterior clean.
Importance Of Regular Metal Roof Cleaning

Metal roofing is noted for its unmatched performance, making it one of the best roofing options for your New Jersey home. Of course, to continue enjoying all the benefits that a metal roof offers, in […]

Important Reasons to Remove Rust from Your Metal Structures

If you own a metal building or other structure, then chances are you're going to experience the headache of rust development on that structure at some point down the road. When that point comes, you' […]
Reviews & Testimonials on TruClean Wash in Maplewood, NJ
Outstanding job on house and deck. House looks like it was just painted. Highly recommend this professional company. Thank you Greg and Anthony.
Perfect!! Cleaned entire house and windows inside and out, the house looks like I just built it.
Noticed that house exterior was looking a bit grungy, thought I might need to repaint. Instead I had TruClean come out and soft wash the house, gutters and deck.Everything was great; very pleased with the professionalism, courtesy and the results. Gregg came out as part of the crew and supervised the whole thing. The team really knew what they were doing... if you don't or don't have the right equipment you can hurt wood siding or damage paint. These guys were real pros, knew just what to do to get the house cleaned up and in great condition. Seriously it looks like I had the house repainted. All the dingy spots especially on the light trim and gutters are gone and the place looks great. It only took them 2.5 hours to do everything.
Power washed house; cleaned the gutters and washed extras that weren't even included in the price (back patio/steps and front steps). EXCELLENT in every way. Courteous, efficient, great job. The house and steps and patio look good as new. Very nice guy.
If you are looking for a professional Maplewood power washing contractor for roof cleaning or other exterior cleaning services then please call TruClean Wash today.