Livingston Power Washing & Roof Cleaning Pros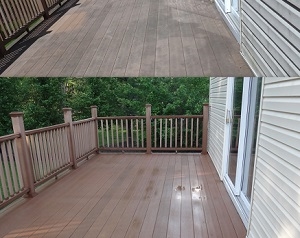 Over the years, many Livingston, New Jersey homes have had to face weather conditions that degrade the exterior surfaces. The humidity, salt, wind, rain, sun, and storms all work together to wear down the surfaces of the homes in the area. The conditions can quickly cause surfaces to fade and turn a dull grey.
But the good news is that may homeowners in the area already know this and have done their best to keep the surfaces sealed against the weather. A proper exterior cleaning and resealing of surfaces like wood on decks or bricks, will extend the life of the building materials and therefore the home. That's why locals call on the pros at TruClean Wash for exterior cleaning services like power washing in Livingston, NJ.
Our technicians are trained and reliable professionals that care about your complete satisfaction with our cleaning services. From window and roof cleaning to pressure washing exterior surfaces like sidewalks, patios, decks and more, our New Jersey power washing contractors will have ensure your home or business is cleaned properly.
Softwashing Services in Livingston
The older a home gets, the more susceptible it is to staining because the surfaces are more porous over time. Old stucco and brick must be treated more carefully when cleaning or the materials can get damaged.
It's still important to keep these surfaces clean, not only to preserve the aesthetic appeal but also to keep debris and grim from causing a quicker decay.
Softwashing is a technique we use to clean older materials or materials that can't stand up to a full powered washing. We use green cleaning solutions that are friendly to your pets, vegetation, and the environment. If some areas of your home need this softer approach, we'll use this softwashing technique that will thoroughly clean your exterior.
Residential Pressure Washing and Cleaning Services in Livingston
Whether your home is newer or older, you'll always want to clean up the roof, siding, sidewalks, windows, fences, and decks or other wooden surfaces, and be sure they are properly sealed from another year of weather conditions. Your property will look astoundingly different and will stay looking great longer. Plus, you'll probably find that you won't have to repaint as often.
At TruClean Wash, we'll make your exterior look great again with our services:
Commercial Exterior Cleaning in Livingston
If you own commercial property in Livingston, you may need to take a look around at it as if you were seeing it for the first time. It's difficult for us to see what potential customers see when they visit our business because we see it day in and day out. We get used to seeing the gum stains on the sidewalk that become black after being stepped on, the soot and grime covering the exterior surfaces, and the dull grey of woodwork like fencing or siding.
In fact, if you took a look around, you probably will notice your roof could use a good cleaning and the windows need washing.
But for commercial property owners, it can be difficult finding a Livington power washing contractor who won't interrupt your business or knows how to follow safety protocols. Not so here at TruClean Wash!
We know all the ins and outs of commercial pressure washing because we've been fully trained and have the experience you need. Call us at the number below for any information you need about our commercial pressure washing services!
Importance Of Regular Metal Roof Cleaning

Metal roofing is noted for its unmatched performance, making it one of the best roofing options for your New Jersey home. Of course, to continue enjoying all the benefits that a metal roof offers, in […]

Important Reasons to Remove Rust from Your Metal Structures

If you own a metal building or other structure, then chances are you're going to experience the headache of rust development on that structure at some point down the road. When that point comes, you' […]
Reviews & Testimonials on TruClean Wash in Livingston, NJ
Gregg was extremely professional and punctual, he was very detailed to what I was paying for, the job came out much better than i expected, not only i will use him every year going forward, but i will highly recommend him to any one who needs the services.
Gregg and his crew did a very nice job. They are professional, polite and to the details. When the work was done, my house looked like brand new. Thank you guys!
A team of 3 mean cleared all the debris away from the house and spent hours cleaning the house. They used a special process on the roof, not powerwash, so as to not damage the shingles. My house looks brand new. Even the gutters are clean inside and out. I am really pleased with the results!
If you are looking for a professional Livingston power washing contractor for roof cleaning or other exterior cleaning services then please call TruClean Wash today.