Are You in Need of a Power Washing Professional in Englewood, NJ?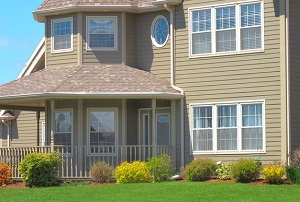 To best preserve the look of your home, one of the best choices you can make is scheduling a visit from an exterior cleaning professional. An exterior cleaning contractor can completely eliminate years of build-up of grime, mildew, mold, and rust stains, returning your home's luster. You may not need to replace your roof, siding, or concrete pouring if you're looking to give your home's value a boost, when Englewood power washing professionals with the right equipment and experience can make all the difference.
If you take advantage of the service of the experienced staff at TruClean Wash you will have the benefit of superior service from licensed professionals. We use a special blend of chemicals to rinse away buildup on your home without risk to your exterior or the environment. Exterior pressure washing should only be attempted by New Jersey power washing contractors with the right equipment and know-how, as a normal pressure washer can actually cause undue damage to your roof, siding, and concrete unless carefully handled.
Some of the residential and commercial exterior cleaning services we offer in Englewood, NJ include:
Englewood Deck Cleaning & Refinishing
Preserving the quality and look of your home's deck is important and it has never been easier than with the assistance of TruClean Wash's deck cleaning services in Englewood, NJ . We provide more than simple deck cleaning services; we can also offer professional refinishing to protect your investment for years to come. With our special cleaning and refinishing services we will take care of stains, as well as algae and mildew growth, and seal your deck with a new protective coating that will help stave off any blemishes to its surface.
Englewood Gutter Cleaning
No one wants to deal with water damage, which is why you need to make certain that your home's gutters are properly functioning. Clogged or improperly maintained gutters can cause water to overspill and not be directed away from your home when it rains. Water that collects around your foundation can actually cause damage over time, leading to cracks and leaks that would have otherwise been avoided with routine gutter cleaning.
Importance Of Regular Metal Roof Cleaning

Metal roofing is noted for its unmatched performance, making it one of the best roofing options for your New Jersey home. Of course, to continue enjoying all the benefits that a metal roof offers, in […]

Important Reasons to Remove Rust from Your Metal Structures

If you own a metal building or other structure, then chances are you're going to experience the headache of rust development on that structure at some point down the road. When that point comes, you' […]
Reviews & Testimonials on TruClean Wash in Englewood, NJ
Gregg and his team did a FANTASTIC job at my house. The estimate was done with care and attention to detail, and Gregg is very personable. The estimate followup was prompt, as was the scheduling. The team arrived on the date of service on time and excited to get to work. I am so impressed with the quality of the work done. The house, roof, patio, driveway and walkways all look AMAZING!! Gregg and the team took their time to clean everything very carefully, and they succeeded in removing some tough stains from my siding. I enthusiastically recommend TruClean and will definitely be hiring them again!!
If you are looking for a professional Englewood power washing contractor for roof cleaning or other exterior cleaning services then please call TruClean Wash today.