Do You Want the Best in Elmwood Park Power Washing & Softwashing Services?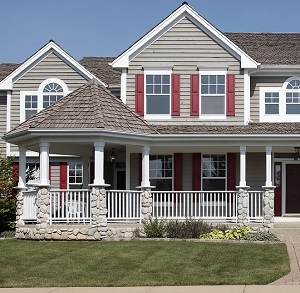 If you're looking to preserve the look and value of your home, then you don't need to undergo expensive exterior improvements when you can return your home to that like-new luster after a single visit from our exterior cleaning experts. Power washing services can allow you to eliminate years worth of buildup of grime, stains, rust, and mildew that is harming the appearance of your home. With a visit from the Elmwood Park power washing experts at TruClean Wash you will be able to have your home looking great again, giving your curb appeal the shot in the arm it needs.
With only a single call you will have access to the most experienced and best equipped power and softwashing contractors around. All of our staff are properly licensed and have the training needed to handle any cleaning job safely without threat of damage to your home. Our New Jersey power washing contractors use only environmentally friendly chemicals to rinse away organic buildup, providing you with superior results with no risk to the exterior of your home.
Our exterior cleaning services for homes and businesses in the Elmwood Park area include:
Elmwood Park Deck Cleaning & Refinishing
Maintaining the quality of your deck can be difficult if you go it alone, but with the assistance of the Elmwood Park deck cleaning and refinishing experts at TruClean Wash it is made easy. By scheduling a visit from our deck experts, we will be able to eliminate any organic growth on your surfaces, and refinish them to protect them from UV rays and keep them looking great for years to come. Re-sealing your deck occasionally is an important part of protecting your investment and one that should not be overlooked.
Elmwood Park Gutter Cleaning
Keeping your gutters clean is necessary if you want to prevent undue water damage to your home. Clogged or improperly maintained gutters can cause water to overspill and not be directed away from your home when it rains. Water that collects around your foundation can actually cause damage over time, leading to cracks and leaks that would have otherwise been avoided with routine gutter cleaning.
Importance Of Regular Metal Roof Cleaning

Metal roofing is noted for its unmatched performance, making it one of the best roofing options for your New Jersey home. Of course, to continue enjoying all the benefits that a metal roof offers, in […]

Important Reasons to Remove Rust from Your Metal Structures

If you own a metal building or other structure, then chances are you're going to experience the headache of rust development on that structure at some point down the road. When that point comes, you' […]
Reviews & Testimonials on TruClean Wash in Elmwood Park, NJ
There are currently no reviews or testimonials for Elmwood Park, NJ. Check back soon!
If you are looking for a professional Elmwood Park power washing contractor for roof cleaning or other exterior cleaning services then please call TruClean Wash today.