Looking For The Best in Exterior Cleaning and Power Washing in Edgewater, NJ?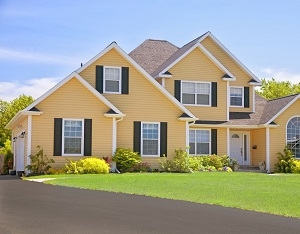 To keep your home looking great or to just give it that boost in curb appeal that you have been after, you need to look into setting up a visit from an Edgewater power washing and softwashing contractor. An exterior cleaning specialist will be able to help revitalize the look of your home, rinsing away pesky black stains on your roof, siding, as well as restore the look of your concrete surfaces. If you have been considering ways to improve the look of your home or just want to maintain its luster, see about giving the experts at TruClean Wash a call.
We can provide you with the best power washing service in Edgewater, NJ, and have the experience needed to handle any exterior cleaning job with expediency and ease, all while providing our customers with the fairest upfront pricing. There's no reason to replace your roof or your siding if they're stained from enduring years worth of punishment; we can have them looking like brand new again after being treated with one of our environmentally safe chemical rinses. For the best in licensed New Jersey power washing contractors, contact TruClean Wash today.
Services we offer include:
Edgewater Deck Cleaning & Refinishing
Keeping a great looking deck has never been easier now that you have the service of TruClean Wash at your disposal. We provide more than simple deck cleaning services; we can also offer professional refinishing to protect your investment for years to come. With our special services for deck cleaning and refinishing in Edgewater , we will take care of stains, as well as algae and mildew growth, and seal your deck with a new protective coating that will help stave off any blemishes to its surface.
Edgewater Gutter Cleaning
Your gutters do an important job of protecting your home from potentially expensive water damage. To ensure that they keep working as intended, you need to have your gutters routinely cleaned to prevent blockages from occurring
Clogged gutters present a problem for Edgewater homeowners, as they can cause water to overspill and gather around the foundation of your home. Once this occurs, the water will permeate your foundation, eventually leading to cracks, leaks, and other complications that can all prove expensive to fix.
For all of your Edgewater gutter cleaning needs, contact TruClean Wash for an estimate and schedule an appointment.
Importance Of Regular Metal Roof Cleaning

Metal roofing is noted for its unmatched performance, making it one of the best roofing options for your New Jersey home. Of course, to continue enjoying all the benefits that a metal roof offers, in […]

Important Reasons to Remove Rust from Your Metal Structures

If you own a metal building or other structure, then chances are you're going to experience the headache of rust development on that structure at some point down the road. When that point comes, you' […]
Reviews & Testimonials on TruClean Wash in Edgewater, NJ
There are currently no reviews or testimonials for Edgewater, NJ. Check back soon!
If you are looking for a professional Edgewater power washing contractor for roof cleaning or other exterior cleaning services then please call TruClean Wash today.