Closter Power Washing & Roof Cleaning Pros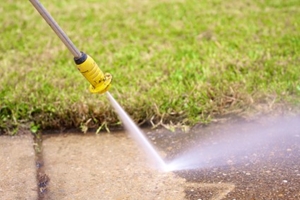 When you want the outside of your home to look clean and shine bright, you need a professional Closter power washing service. Power washing, also known as pressure washing, is the process of using heavy machinery to clean the hard surfaces of your home.
TruClean Wash is a professional Closter power washing contractor with several years of experience in the exterior cleaning industry. We offer the residents of Closter area several different cleaning services including roof cleaning, siding cleaning, power washing, rust removal and more. We back all of our services by a 100% satisfaction guaranteed policy. We complete all of our services for an affordable price and in a professional manner.
Our experts can clean your home in a safe but effective method that will assure damage free results. With our cleaning services, homeowners do not have to get their hand dirty while dealing with difficult stains. We handle all of our exterior cleaning problems.
Closter Power Washing
You are constantly cleaning the interior of your home to keep it looking nice, but what about the exterior of your home? You should provide the same care and cleaning job to the outside of your home. Our professional cleaning can help you clean the outside of your home using a power washer.
As a professional New Jersey power washing, we have the ability to clean hard surfaces around your home including:
Cleaning these areas of your home will not only make your home look better, but it will improve the appearance of the entire neighborhood.
Closter Roof Cleaning
The top of your house is covered by a solid structure known as your roof. This structure can be harmed by dirt, mildew, mold and black streaks. Black streaks are a type of algae that forms on roof and eats away at the structure of your roof, which ultimately reduces the lifespan of your roof.
At TruClean Wash, we offer professional roof cleaning in Closter that involves using a soft wash process to ensure that your home's roof is cleaned without any damage to the structure. We use a chemical process that is safe and can eliminate mold at its roots.
Importance Of Regular Metal Roof Cleaning

Metal roofing is noted for its unmatched performance, making it one of the best roofing options for your New Jersey home. Of course, to continue enjoying all the benefits that a metal roof offers, in […]

Important Reasons to Remove Rust from Your Metal Structures

If you own a metal building or other structure, then chances are you're going to experience the headache of rust development on that structure at some point down the road. When that point comes, you' […]
Reviews & Testimonials on TruClean Wash in Closter, NJ
There are currently no reviews or testimonials for Closter, NJ. Check back soon!
If you are looking for a professional Closter power washing contractor for roof cleaning or other exterior cleaning services then please call TruClean Wash today.