Cliffside Park Power Washing & Roof Cleaning Pros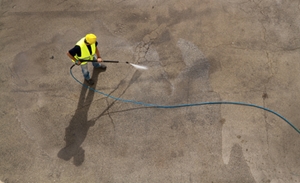 The exterior appearance of your home is not only important to you and your family, but it is also important to your community. If the outside of your house looks dirty and dingy, the entire neighborhood can seem low scale. The best way to clean up the outside features of your home is to hire a professional  Cliffside Park power washing contractor for high quality power washing and soft washing services.
TruClean Wash is a professional exterior cleaning company that provides a variety of outdoor cleaning services to improve the appearance of your home. Our professional are trained and certified to handle the cleaning of your home.
Our Exterior Cleaning Services For Cliffside Park Include:
Cliffside Park Power Washing
Power washing is a great way to clean the hard features of the outside of your home. A power washer involves using a pressure washing machine that dispenses water at a high velocity. Our professional Cliffside Park power washing contractors are properly trained to clean your home's surfaces using this heavy piece of equipment. We guarantee that your home will be brighter and cleaner.
When it comes to power washing in Cliffside Park, hiring a company with experience and affordable pricing options make sense. Our pressure washing specialists are licensed and professionally trained, so we can guarantee that you receive the best exterior cleaning services possible.
Cliffside Park Roof Cleaning
The roof of your Cliffside Park home is made out of strong, sturdy material, but it will not last forever. The average American roof can last anywhere from 20 to 30 years, depending on the type of material. One thing is for sure, no matter what type of roof you have a professional roof cleaning in Cliffside Park can help you avoid an expensive roof replacement services.
Our professionals use a soft washing process that involves using eco-friendly chemicals to wash your roof. A high powered pressure washer can harm the structure of your roof and do more damage than good when it comes to cleaning. Our experts understand how to successfully clean your roof without harming your roof.
Importance Of Regular Metal Roof Cleaning

Metal roofing is noted for its unmatched performance, making it one of the best roofing options for your New Jersey home. Of course, to continue enjoying all the benefits that a metal roof offers, in […]

Important Reasons to Remove Rust from Your Metal Structures

If you own a metal building or other structure, then chances are you're going to experience the headache of rust development on that structure at some point down the road. When that point comes, you' […]
Reviews & Testimonials on TruClean Wash in Cliffside Park, NJ
There are currently no reviews or testimonials for Cliffside Park, NJ. Check back soon!
If you are looking for a professional Cliffside Park power washing contractor for roof cleaning or other exterior cleaning services then please call TruClean Wash today.