Cedar Grove Power Washing & Roof Cleaning Services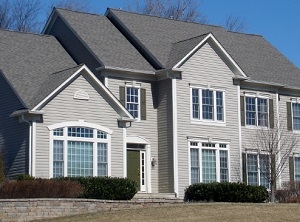 Cedar Grove, NJ homes face a lot of exposure to weather conditions that contribute to the buildup of grime on exterior surfaces. Over time, the true color of the building materials begins to fade and can wind up looking very dull. The problem is that all this occurs over time, and when we own a property, we are seeing it every day so we hardly notice the little changes. Unfortunately, we're the only ones who really have the problem seeing how dirty our property really is. Not so for visitors or friends who come by from time to time.
It's a common problem, and it's really easy to fix. Just look around your property and take an honest fresh look at it. You probably have in mind what it looked like when you first saw it and were attracted to it. How much has it changed? Has the color of the wood, siding, roofing, decks or walkways become a little dull looking? If so, give the Cedar Grove power washing pros here at TruClean Wash a call. We'll have your property looking good as new again in no time with our professional exterior cleaning services.
Residential Pressure Washing and Cleaning Services in Cedar Grove
If you've looked around and seen some roof stains, brick fading, sidewalk and driveway stains, garage floor stains, deck wood or fences fading or dirty, then we'd say it's a good idea to get call a professional Cedar Grove pressure washing company for service.
We can get your exterior surfaces clean, and will do it how it should be done. Professional New Jersey power washing technicians are trained to know all the ins and outs of surface materials and the type of pressure they can handle before getting damaged. We know all the techniques involved, and trust us there are more than many people think.
If your home could use a good exterior scrub, you'll want our pro's at TruClean Wash. Our technicians must pass thorough background screenings including criminal check. We are licensed and insured professionals. Our services are 100% Guaranteed!
Softwashing Services in Cedar Grove
Each surface of the exterior of your home consists of different materials and possibly of different ages. Some materials are more dense and some more porous. Some older, some newer. Some have been more exposed to the elements of nature than others. All these differences require an expert to know how to property treat them during cleaning. Especially susceptible to damage are older natural stone or brick surfaces. These material become unsealed over time and get damaged by wind, rain, humidity, sunlight, and storm weather.
Softwashing is a technique that professionals use to care for the older materials or more easily damaged materials that require a softer approach to a thorough clean. Your surfaces will be treated and handled with respect by TruClean Wash professionals who know what they're doing.
Put your home in our hands and we'll get it truly clean the right way!
Importance Of Regular Metal Roof Cleaning

Metal roofing is noted for its unmatched performance, making it one of the best roofing options for your New Jersey home. Of course, to continue enjoying all the benefits that a metal roof offers, in […]

Important Reasons to Remove Rust from Your Metal Structures

If you own a metal building or other structure, then chances are you're going to experience the headache of rust development on that structure at some point down the road. When that point comes, you' […]
Reviews & Testimonials on TruClean Wash in Cedar Grove, NJ
There are currently no reviews or testimonials for Cedar Grove, NJ. Check back soon!
If you are looking for a professional Cedar Grove power washing contractor for roof cleaning or other exterior cleaning services then please call TruClean Wash today.