Routine Gutter Cleaning Protects Your New Jersey Home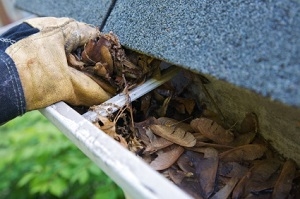 One of the most often overlooked portions of a home is the gutters. Far too often, people only recognize the need for well functioning gutters after damage has already been done. As a homeowner, you have a responsibility to keep your gutters clean and unobstructed at all times. At TruClean Wash, our New Jersey gutter cleaning contractors are here to help you with this important obligation. We can handle the entire project for you.
Our
New Jersey power washing
experts can develop the best gutter cleaning schedule for your property's unique needs. With our assistance, you will never have to worry about your gutter system ever again.
Call TruClean Wash today if you need assistance cleaning the gutters around your New Jersey home. Our polite staff would be happy to take your call and to answer any questions that you may have. We can schedule your appointment for gutter cleaning in New Jersey today.
Why You Need to Routinely Clean Your Gutters
The purpose of well functioning gutters is obvious. This system is in place to channel storm water and ice melt from the surface of your roof to a safe distance on the ground away from your home. The drastic results that can occur due to clogged gutters are less obvious.
First, a clogged gutter can cause standing water on the surface of your roof and within the gutter itself. In turn, this water damage your roof, can rot your fascia boards, and can cause your gutters to collapse. The resulting damage can provide easy access to the interior of your home for unwanted animals and pests.
Second, a clogged gutter will not effectively channel water from your roof to the ground. Instead water will simply cascade down the side of your property. Over time, a great amount of damage can occur to your siding, windows, doors, landscaping, and hardscaping.
Third and worst of all, clogged and overflowing gutters present a substantial risk to the foundation of your home. If water begins to pool on the side of your New Jersey residence, it can seep into your basement and into your foundation. In addition to the water damage caused, in the winter, this water can freeze and cause cracks in your foundation.
Our New Jersey Gutter Cleaning Professionals Prevent All of These Problems
When you hire our New Jersey gutter cleaning contractors, you guarantee that all of these problems will be prevented. Our team will always keep your gutters in the best condition possible. You will never have to climb a ladder again to scoop wet muck from your gutter system. You are guaranteed to be pleased with the results of our efforts.
If you need to hire a pressure washing company who specializes in gutter cleaning services in New Jersey, call TruClean Wash today.