Check Your Rental Home's Gutters For Cleaning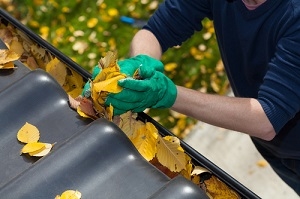 Gutter cleaning in New Jersey can be difficult and frustrating when done by the homeowner. This is especially true when there are clogs that are solid as rocks that have to be cleared from these narrow areas.
Plus, just getting up on a ladder can intimidate the best of us, even if we're sort of used to it. Professional gutter and roof cleaners have no problem on ladders, however, even when needing to carry up heavy or awkward equipment. For the average homeowner, it can be dangerous to clean gutters so hiring a New Jersey power washing company is the wisest choice.
When you own rental homes, it's easy to forget about gutter cleaning. But remember that you probably bought the property for investment purposes. That means when it comes to damages to the home, you don't want to add to any problems simply because the gutters are overflowing with junk.
Keeping your rental home's gutters cleaned takes the burden off your renters while helping you to ensure your investment property stays fit and undamaged.
Cracked Foundations & Gutter Problems: What They Have In Common
The last thing you want to have happen to your investment property is to develop cracks in the home's foundation. Another sign of foundation problems is cracks running up your walls or along the ceiling materials. As a foundation shifts, it will likely produce very noticeable cracks in the home structure.
Clogged gutters keep the rainwater from flowing away from the foundation. Instead, the rainwater pools around the foundation areas and can seep up underneath. This washes away soil which makes the foundation shift. Then before you know it, your investment homes are worth thousands of dollars less than they were the month before.
The best way you can ensure your rental home's gutters are taken care of, and therefore your investments kept sound, are to have the gutters cleared and the roofing structure kept clear of debris build up. Tree branches, leaves, and everything else that falls in your gutters also gets on the roof where it only makes matters worse. So invest in routine gutter cleaning in New Jersey .
The Name You Can Trust for Gutter Cleaning in New Jersey
At TruClean Wash, we work with many homeowners to keep their gutters cleaned so they never have to worry about getting it done. We can set up a seasonal gutter cleaning services for you as well to help you keep your rental homes clear of debris. Just give us a call and we can find a plan for gutter cleaning that suits you well for this valuable preventative maintenance and exterior cleaning service.
Are you looking for a professional that provides gutter cleaning in New Jersey? Call TruClean Wash today.