What New Jersey Residents Need to Know About Black Roof Stains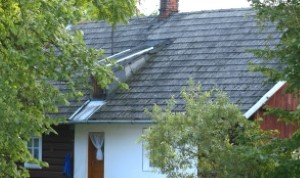 Asphalt shingle roofs are amazingly popular. The provide exceptional long term protection to homes and businesses. Better yet, when they are well maintained, shingle roofs look absolutely wonderful. Unfortunately, there is one common complaint about these systems: black roof stains in New Jersey.
If your asphalt shingle roof has developed black stains, you should contact a professional New Jersey roof cleaning contractor for help. At TruClean Wash, our expert roof cleaners can lift these unsightly streaks from your roof quickly and easily for you. With our assistance, you can restore your home or business to its original beauty.
Call TruClean Wash today if you want to hire the best roof cleaning contractor in New Jersey. Our courteous and polite staff would be happy to take your call and to answer any questions that you may have about black roof stains. We can schedule your appointment today.
What Causes Black Roof Stains in New Jersey
The most common cause of black roof stains on asphalt shingles is algae, specifically a species named Gloecapsa Magma. This algae can spread from roof to roof via spores. It grows on shingles that remain relatively moist throughout the day. As such, shade on the surface of your roof provides the optimal growing area for the algae. The algae feeds on the calcium carbonate within most asphalt shingles.
Generally speaking, these blacks stains are primarily an aesthetic nuisance only. However, if left to linger for a long time, the moisture that the algae traps can eventually damage the surface of your roof. As such, it is always best to take steps to clean these black stains from your roofing system.
How to Clean Black Roof Stains
The most important thing that you should know about black roof stains is how to clean them. Many homeowners make the mistake in choosing to pressure wash their asphalt shingle roofs. The results can be extremely disastrous. Shingle roofs are relatively delicate, so a pressure washer can blast away shingles and erode their surface. Pressure washing can be so harmful that it voids your roofing warranty.
The best way to clean black stains from the surface of your roof is via the soft washing method. At TruClean Wash, our New Jersey power washing company has roof cleaning contractors who specialize in the soft washing technique. As such, when you hire us, you can rest assured knowing that we will clean your roof in the best manner, while protecting and preserving your asphalt shingles.
Better yet, our professionals use a special blend of cleaning agents to kill the algae on your roof. As such, after our efforts, your roof will remain cleaner for longer because no algae remains to regrow on your system. You are guaranteed to be pleased with the renewed long-lasting beauty of your New Jersey home.
Do you have black roof stains in New Jersey? Call TruClean Wash today.