DIY or Pros – Which Is Right For Pressure Washing Your Home?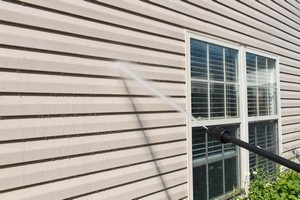 Homeowners are always looking for ways to DIY projects that need to be completed around the house. Aside from saving money, it's nice to feel as though you've invested some of your own sweat equity into the place you call home.
However, it's important to pick and choose the right tasks when it comes to do-it-yourself home improvements. For instance, is pressure washing the right type of job to take on yourself?
Is Pressure Washing a DIY Task?
The truth is when it comes to tasks like softwashing or pressure washing, this is something that is best left to the pros and here are some of the reasons why:
The fact that you probably don't even really understand the difference between pressure, power, and soft washing is one good example of why this job should be left to industry experts. You need to know which one is appropriate for the type of surface you will be cleaning. You don't want to clean your delicate roofing shingles in the same manner you clean your driveway.
This can be a dangerous job. Aside from the high-pressure water you're using that can cause property damage or personal injury, you're working on a slick surface. The last thing that you want to do is fall down the deck stairs or take a tumble on the hard pavers making up your walkway. It's not worth the risk when you can just let a pro take care of it for you.
Let's face the fact that a trained and experienced expert is going to do a better job. The worst part of doing it yourself is walking around afterwards and seeing all the spots you missed. These dirty spots become the focal point because they stick out like a sore thumb against the otherwise clean surface.
Trust us to handle the job for you. Contact TruClean Wash for the finest work from a New Jersey pressure washing company.
If you would like an estimate for residential or commercial pressure washing in New Jersey, please call TruClean Wash today.