Harding Power Washing & Roof Cleaning Company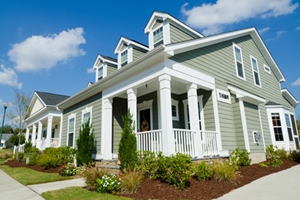 The homes in Harding have wonderful architectural charm and are kept up well. If you own an older, historical home in Harding, then you know the importance of keeping the historical integrity of your home. Repairs and upgrades can damage your home's value if they aren't made with consideration for the historical structure. Special techniques are often required to restore surfaces and match design. When cleaning, a high powered pressure wash is not recommended for delicate surfaces yet not all Harding power washing service providers understand this.
At TruClean Wash, your surfaces will be safe with us. We provide only expert professional exterior cleaning services in Harding, NJ that includes softwashing techniques for your home or commercial building's safety. With over a decade in the business, we are your local New Jersey power washing experts.
Residential Pressure Washing and Cleaning Services in Harding
The exterior of your home includes surfaces like the walls, roofing, siding, fences, sidewalks, patios, porches, decks, outdoor living areas, and more.
When our property gets dirty on the outside, we fee bad on the inside. Chores like cleaning up around the outside of our homes can end up piling up because we're all so busy trying to provide a living for ourselves and family. The longer your outdoor mess sits, the worse it will become, so maybe this year you will call a professional to help you out.
Pressure washing in Harding is the most common method to cleaning the exteriors of our homes and is an excellent service for removing stains or clearing out a lot of debris.
Roof Cleaning Services in Harding
Your home's roof is there to protect you and your family and it generally serves its purpose well. However, if water, debris, acorns, tree branches, and other things get thrown onto your roof, you'll want to clean them off as soon as possible.
The roofing materials can decay quickly if not cleaned off, so be sure to call a pro in at TruClean Wash and we'll get your roof cleaned right away with our expert pressure washing services.
Softwashing Services in Harding
Softwashing removes a multitude of problems without causing any damage to the more delicate surfaces of your home. Mold, mildew, algae, moss, and other airborne contaminants such as grime, sea salt, and lime buildup. Softwashing is used on surfaces such as:
Stucco
Dryvit
Vinyl
Aluminum
EIFS
Brick
Stone
Synthetic or composite deck materials
Glass
Finding the right exterior cleaning service in New Jersey can be frustrating when there are so many to choose from. There are plenty of service companies and contractors but we ask you which one has all the elements you are looking for in a contractor? TruClean Wash is the name you can trust to provide you with the professional results you seek.
Importance Of Regular Metal Roof Cleaning

Metal roofing is noted for its unmatched performance, making it one of the best roofing options for your New Jersey home. Of course, to continue enjoying all the benefits that a metal roof offers, in […]

Important Reasons to Remove Rust from Your Metal Structures

If you own a metal building or other structure, then chances are you're going to experience the headache of rust development on that structure at some point down the road. When that point comes, you' […]
Reviews & Testimonials on TruClean Wash in Harding, NJ
There are currently no reviews or testimonials for Harding, NJ. Check back soon!
If you are looking for a professional Harding power washing contractor for roof cleaning or other exterior cleaning services then please call TruClean Wash today.