The North Caldwell Power Washing Company You Can Trust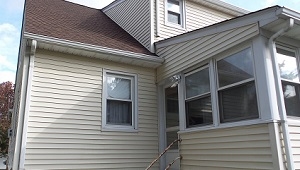 If you live in North Caldwell, New Jersey, you'll be enjoying some spring weather soon that will make you want to get outside and enjoy some outdoor activities. Many homeowners will be cleaning up the exteriors of their homes, making them ready for some outdoor fun. If you're getting ready for the summer and our awesome spring weather, think about call the North Caldwell power washing professionals at TruClean Wash for service.
Our team of trained and experienced contractors use both high pressure washing and softwashing techniques to ensure an optimum, non-damaging clean for any exterior surface. Our company gets the best results for exterior cleaning in North Caldwell, which is why so many home and business owners call us year after year to clean their properties. From sidewalks and driveways to windows and roofs, our North Caldwell power washing company has your exterior cleaning service needs covered. All you have to do is give us a call, and we'll show you what it's truly means to have a clean home exterior!
Exterior Pressure Washing Services in North Caldwell
Pressure washing in North Caldwell is one of the quickest and most effective ways to clean your home up. However, there's a huge difference in renting a power washing machine to do it yourself and getting a professional power washing service like ours here at TruClean Wash.
Pressure washing involves a lot more than people understand. You have to know building materials and how they react at certain ages and exposures to bad conditions. It's too easy to destroy a roof, not even realizing you're doing it, or tear up the brick or old stucco on your home making it more susceptible to moisture and crumbling.
A professional New Jersey power washing company uses altering techniques for different surfaces so your building materials are treated carefully yet still get very effectively cleaned. There are techniques involved in getting rid of stains, softwashing for rooftops, and more.
These are common surfaces that require differences in techniques:
Roofs
Decks
Patios
Walkways
Driveways
Garage Floors
Sidewalks
Fences
Windows
Siding
Outdoor Living Areas
and more
When you use our professional pressure washing service, you'll get the best clean there is and your materials won't suffer damage. We do all the hard work for you and use solutions that are environmentally friendly. We'll get your home sparkly again, enhancing your curb appeal and getting your outdoor areas ready for some summer fun!
Importance Of Regular Metal Roof Cleaning

Metal roofing is noted for its unmatched performance, making it one of the best roofing options for your New Jersey home. Of course, to continue enjoying all the benefits that a metal roof offers, in […]

Important Reasons to Remove Rust from Your Metal Structures

If you own a metal building or other structure, then chances are you're going to experience the headache of rust development on that structure at some point down the road. When that point comes, you' […]
Reviews & Testimonials on TruClean Wash in North Caldwell, NJ
Power wash the outside of the house, clean the windows, and clean pavers in back yard. Gregg responded immediately to our request for a quote. Upon thoroughly reviewing the details of the house, he took the time to explain the process in detail and also provided his recommendations. His crew came to our home on a weekend and did a superb job and even hand cleaned each outside window. His crew was professional and on time. We would highly recommend TruClean to anyone who wants a trustworthy and professional cleaning service!
TruClean scrubbed the gutters, leaders and vinyl siding first before power washing. TruClean arrived on time and explained the cleaning procedure to me. The house needed a thorough cleaning and I was very happy with the results. Very professional and happy with the service. Would highly recommend TruClean to anyone.
We have been using TruClean for our gutter cleaning needs. Always professional, friendly and knowledgeable from their customer service to the technicians. Today, I had the pleasure of speaking with Omri who impressed me with going above and beyond the usual amazing phone service. Paul and Vin also went above and beyond today while servicing our home. We have some additional projects that need attention in the Spring - TruClean will definitely get those jobs!!
If you are looking for a professional North Caldwell power washing contractor for roof cleaning or other exterior cleaning services then please call TruClean Wash today.