Alpine Power Washing & Roof Cleaning Pros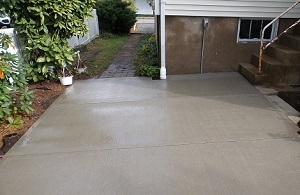 If your roof is beginning to show unsightly black streaks and splotches you should contact TruClean Wash today to get the best professional pressure washing and soft washing exterior cleaning services in Alpine, NJ. These black smudges are often more than just dirt and grime, and can be harmful algae, mildew, and mold, that can cause potential damage to the shingles of your Aline home. Though there may be no immediate threat of physical damage occurring, failure to get the aid of an Alpine power washing contractor will result in damaging your investment as the value of your home decreases.
The easiest solution to this problem is as simple as a visit from TruClean Wash's pressure washing and softwashing exterior cleaning professionals. We can give your home an increase in curb appeal, and deal with those pesky organisms that could be damaging your shingles or siding. Our experienced staff use specialized cleaning techniques to provide the best Eco-friendly power washing options to the Alpine area. We can blast away grime and rust, protecting your home or business from the environment while keeping the environment safe and free of harmful chemicals. See about scheduling a visit from one of our power washing contractors so we can have your Alpine home looking brand new again!
Alpine Gutter Cleaning
If our power washing and softwashing contractors are paying your Alpine home a visit, it is the perfect time to take advantage of our gutter cleaning services as well. Your gutters will build-up grime and mold over time that can be difficult to remove and will lead to clogging and leaks as it begins to hinder water flow. The best way to keep that from happening and have your gutters working their very best year round is by having your Alpine gutters cleaned regularly.
Our experienced New Jersey power washing contractors use only the best proven techniques to eradicate grime from gutters, no matter their build material, we can have them looking and functioning like new. We stand by the quality of our work, and guarantee you will be thrilled with the results when you contact the best in Alpine gutter cleaning services with a call to TruClean Wash.
Alpine Concrete Cleaning
When your concrete sidewalk, patio, or driveway is beginning to show its age, there's an easier option than replacing it to increase your home's visual appeal. Even if you've overlooked this grime and dirt that has accumulated over the years, you will be amazed at the difference that a visit from one of our pressure washing contractors will make.
Unsightly mildew, debris, mold, and oil will build up on your concrete and create ugly grime that can be difficult to remove. By conducting the right kind of maintenance from an experienced pressure washing contractor, you can eradicate all of this unsightly build-up. We can use special pressure and softwashing techniques to remove this grime without any threat of damage to your driveway, sidewalk, or patio. You should contact TruClean Wash for any of your pressure washing needs!
Importance Of Regular Metal Roof Cleaning

Metal roofing is noted for its unmatched performance, making it one of the best roofing options for your New Jersey home. Of course, to continue enjoying all the benefits that a metal roof offers, in […]

Important Reasons to Remove Rust from Your Metal Structures

If you own a metal building or other structure, then chances are you're going to experience the headache of rust development on that structure at some point down the road. When that point comes, you' […]
Reviews & Testimonials on TruClean Wash in Alpine, NJ
There are currently no reviews or testimonials for Alpine, NJ. Check back soon!
If you are looking for a professional Alpine power washing contractor for roof cleaning or other exterior cleaning services then please call TruClean Wash today.