Professional Pool Deck Cleaning in New Jersey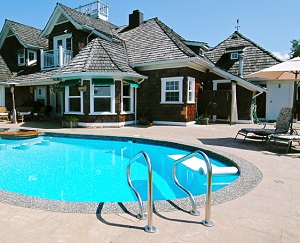 In order for you and your family to enjoy your pool to the utmost, the surrounding pool deck must be kept looking inviting and presentable. If your pool deck is overrun by stains, algae, and weeds, then you and your family may simply avoid the area altogether. At TruClean Wash, our pressure washing company specializes in wood, paver, and concrete pool deck cleaning in New Jersey. We can restore your pool deck to its original beauty and in the process enhance how you and your family use and enjoy the area.
Over the years, in every service that we provide, our New Jersey power washing contractors focus on one simple goal. Our team seeks to form long-lasting and mutually beneficial relationships with all of our customers. Through the high quality results that we achieve, we seek to convey the fact that you can trust us with all your present and future exterior property cleaning needs. Our professionals will bring this dedication to excellence to task during your pool deck cleaning project.
If your pool deck is dirty, uninviting, stained, or unsightly, call TruClean Wash today. Our New Jersey pool deck cleaning contractors can restore the area to its original beauty quickly and easily for you. You and your family will be stunned by the marvelous results. Our polite staff would be excited to schedule your appointment today.
Concrete Pool Deck Cleaning in New Jersey
Concrete pool decks are notoriously difficult to clean because their porous surfaces are highly susceptible to algae growth and embedded stains. Trying to clean the area yourself can be immensely arduous and the results can be lackluster. Instead, you should hire TruClean Wash and our New Jersey pressure washing contractors for help.
Our team has an immense amount of experience cleaning concrete pool deck services. We can lift any stain from the surface of your pool deck because we use customized methods during each task that we conduct. You and your family will be completely satisfied with the renewed beauty of your pool deck.
Paver Pool Deck Cleaning in New Jersey
Paver pool decks are even harder to keep clean than standard concrete pool decks. In addition to having a similarly porous surface, pavers have groves and designs in which dirt and bio-growth can accumulate. Again, TruClean Wash and our exceptionally skilled pressure washing contractors are here to help.
Our professionals will adapt the cleaning method we use to the unique surface of your pool deck and the stains present. In this way, we can clean the area in the best manner possible, while protecting and preserving the underlying surface.
Articles & Tips
Importance Of Regular Metal Roof Cleaning

Metal roofing is noted for its unmatched performance, making it one of the best roofing options for your New Jersey home. Of course, to continue enjoying all the benefits that a metal roof offers, in […]

Important Reasons to Remove Rust from Your Metal Structures

If you own a metal building or other structure, then chances are you're going to experience the headache of rust development on that structure at some point down the road. When that point comes, you' […]
Our latest projects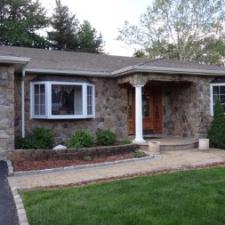 ---
---
If you would like an estimate for pool deck cleaning in New Jersey, please call TruClean Wash today.