Exceptional Roof Cleaning & Power Washing Services in Upper Saddle River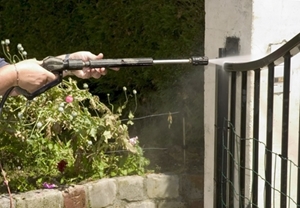 When the exterior of your home is dirty and dingy, it is hard for you and your family to enjoy your property to the utmost. If your business is not kept clean on the outside, your commercial property fails to convey your professionalism to the local community. For these reasons, it is important to keep your property looking its best at all times. At TruClean Wash, our Upper Saddle River power washing and roof cleaning contractors are here to help you with this important responsibility.
We are a full-service exterior property cleaning company who proudly serves both local families and businesses. Every time we are hired for a job, we treat our efforts as if we are performing them on our own properties. With this mindset, our Upper Saddle River pressure washing contractors can achieve the most rewarding results.
For the highest quality pressure washing, roof cleaning, and exterior property restoration services in Upper Saddle River, call TruClean Wash today. Our polite and knowledgeable staff would be happy to take your call, to answer any questions that you may have, and to schedule your appointment today.
Upper Saddle River Power Washing Contractors
We are proud to be the preeminent New Jersey power washing contractors in the Upper Saddle River area. Unlike other professionals, our team customizes all of our cleaning methods to the unique surfaces and stains we are working on. By doing so, our contractors routinely achieve the best looking results. In this way, we consistently achieve the highest levels of customer satisfaction.
Our Upper Saddle River power washing contractors can clean every exterior surface of your home or business. From masonry and wood to concrete and vinyl, we can restore the original beauty of the dirtiest surface materials. After our efforts, you and your family will be stunned by the amazing new look of your property.
Roof Cleaning Services in Upper Saddle River
Our roof cleaning contractors use the soft washing method in order to achieve the best results. Most roofing materials are too delicate for traditional pressure washing. Our soft washing technique can lift the most difficult and stubborn stains from the surface of your roof while causing no harm to your roof's integrity.
Gutter Cleaning Services in Upper Saddle River
If you fail to routinely clean your gutters, a number of problems can occur. A clogged gutter will overflow, and in turn, the resulting cascade can damage your siding, landscaping, and foundation.
Our professionals can provide for all your routine gutter cleaning needs. You will never have to climb a ladder to scoop wet muck from your gutters every again. This is reason enough to trust our Upper Saddle River contractors with the task.
Importance Of Regular Metal Roof Cleaning

Metal roofing is noted for its unmatched performance, making it one of the best roofing options for your New Jersey home. Of course, to continue enjoying all the benefits that a metal roof offers, in […]

Important Reasons to Remove Rust from Your Metal Structures

If you own a metal building or other structure, then chances are you're going to experience the headache of rust development on that structure at some point down the road. When that point comes, you' […]
Reviews & Testimonials on TruClean Wash in Upper Saddle River, NJ
There are currently no reviews or testimonials for Upper Saddle River, NJ. Check back soon!
If you are looking for a professional Upper Saddle River power washing contractor for roof cleaning or other exterior cleaning services then please call TruClean Wash today.