Bergenfield Power Washing Service Pros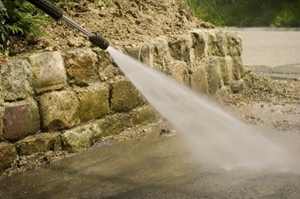 Your roof is under attack by New Jersey weather year round, and this barrage can take its tool without proper cleaning. Grime and buildup will begin to show unsightly black marks on your roof, which can devalue your home and even cause serious damage. These stains can often be harmful organisms like mold, mildew, and algae that have been using the organic components of your shingles as a food source! These organisms are eating away at more than your shingles, as they can even cause your roof to become less energy-efficient, costing you heating and cooling dollars that could have otherwise been saved. If left unattended, mold and algae can cause lasting damage to your roof that will require expensive repairs. Don't let this happen when the local Bergenfield power washing and roof cleaning experts are right around the corner at TruClean Wash!
If you would like to keep your roof looking great year round, all you need is a visit from our professional Bergenfield power washing contractors. Pressure washing a roof should never been done by the untrained, as it can cause serious damage to your shingles that can lead to leaks and other problems. TruClean Wash has the right tools and training for the job, and can use much safer softwashing methods to avoid the potential for any damage to your home while rinsing away that ugly grime. We only use environmentally friendly chemicals as well that eradicate harmful organisms but are completely safe to the environment. When you're ready to see the difference our softwashing and pressure washing services can make, contact the cleaning professionals at TruClean Wash.
Bergenfield Softwashing
TruClean Wash can do more than basic pressure washing and roof cleaning for your Bergenfield home or business. We also happen to be the area experts at providing the best in Bergenfield softwashing services. The softwashing services that we provide are safe to use on stucco, wood, vinyl, dryvit, brick, and even concrete homes. When nasty grime and mold have begun to blacken the outside of your Bergenfield home, you need to get it removed before it becomes a bigger problem. Our Bergenfield soft pressure washing professionals can eliminate any unsightly grime from the side and roof of your home.
If you would like to have your Bergenfield home looking like new, contact TruClean Wash for safe softwashing services that can stop the buildup of harmful organisms that can cause damage to your roof, siding, and decrease the value of your home. With a single visit, our softwashing contractors will completely revitalize the exterior of your home.
Bergenfield Rust Removal
If the metal on your roof has begun to show rust stains, you should see about contacting the Bergenfield roof cleaning professionals at TruClean Wash right away. A rusting metal roof can cause significant harm to your home's value and bring about further deterioration which will require expensive repairs. However, rust stains do not mean that you need a new roof, there is an easier, safe, and cheaper alternative to that level of expensive repair. A visit from a pressure washing contractor can remove rust and protect your roof from further damage.
Rust stains don't just pose a threat to your roof, but to the rest of your home's exterior as well. As water runs down the roof, or off of metal components of your home, it will carry rust with it. This results in runny, ugly red stains down the side of your house or business, which if left alone can permanently ruin your paint, siding, or even brick work. When rust stains have appeared on the outside of your home this can be potentially serious if you do not take advantage of the rust removal services of a New Jersey power washing contractor.
Importance Of Regular Metal Roof Cleaning

Metal roofing is noted for its unmatched performance, making it one of the best roofing options for your New Jersey home. Of course, to continue enjoying all the benefits that a metal roof offers, in […]

Important Reasons to Remove Rust from Your Metal Structures

If you own a metal building or other structure, then chances are you're going to experience the headache of rust development on that structure at some point down the road. When that point comes, you' […]
Reviews & Testimonials on TruClean Wash in Bergenfield, NJ
If you are looking for a professional Bergenfield power washing contractor for roof cleaning or other exterior cleaning services then please call TruClean Wash today.