Morristown Power Washing & Roof Cleaning Pros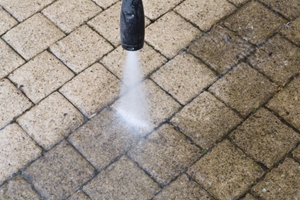 When repairs or upgrades are made on older homes, the owner must ensure that the contractor understands that they need to use appropriate materials and techniques to ensure this integrity. For example, replacing an older style of window with anything other than a custom window made to match is not something you want to let happen. Professional Morristown power washing and exterior cleaning service companies are available, but few provide expert services. If you are truly looking for an expert, you've come to the right place at TruClean Wash. With over a decade in the business, we are your local New Jersey power washing experts.
Roof Cleaning Services in Morristown
It's important to clean off the roof when it accumulates debris. Acorns, leaves, dead parts of trees, dirt, soil, or grime only work together with the weather conditions to create an area where its easy for the roofing materials to rot away. Once rot or mildew or mold start, it is extremely hard to get rid of it.
A professional Morristown roof cleaning service is what you need to get your roof back to where it should be. Professionals will know just how much pressure or what other techniques are needed to expertly clean your roof. TruClean Wash is your local professional contractor.
Residential Pressure Washing and Cleaning Services in Morristown
The outside of our homes has to be cleaned regularly, just like the inside. Sidewalks and decks need regular sweeping and need maintenance from time to time. They also need to be professionally cleaned to keep looking good. Pressure washing is the most common method to cleaning the exteriors of our homes.
Softwashing Services in Morristown
Softwashing is a method of pressure washing that is used when materials are more delicate by nature and can't withstand the force of regular powerwashing without becoming damaged. A lower pressure is used along with special, quality cleaning solutions.
Commercial Exterior Cleaning in Morristown
If you want to maximize the curb appeal of your commercial property, pressure washing services are the way to go. We can get so caught up with the running of our business that we end up forgetting to think about what our customers see when they pull up to our business.
If the sidewalks are dirty and stained, they can be a real turnoff to customers. Siding and roof tops should also be kept clean. When the whole exterior looks good, it reflects well on you and your business.
Importance Of Regular Metal Roof Cleaning

Metal roofing is noted for its unmatched performance, making it one of the best roofing options for your New Jersey home. Of course, to continue enjoying all the benefits that a metal roof offers, in […]

Important Reasons to Remove Rust from Your Metal Structures

If you own a metal building or other structure, then chances are you're going to experience the headache of rust development on that structure at some point down the road. When that point comes, you' […]
Reviews & Testimonials on TruClean Wash in Morristown, NJ
There are currently no reviews or testimonials for Morristown, NJ. Check back soon!
If you are looking for a professional Morristown power washing contractor for roof cleaning or other exterior cleaning services then please call TruClean Wash today.