Morris Plains Power Washing & Roof Cleaning Pros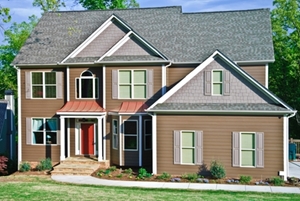 Morris Plains is a borough in Morris County, New Jersey, United States. As of the 2010 United States Census, the borough's population was 5,532 *
Morris Plains was incorporated as a borough by an Act of the New Jersey Legislature on March 15, 1926, from portions of Hanover Township, based on the results of a referendum held on April 15, 1926.
Morris Plains serves as a bedroom community, with many residents traveling to work in New York City. The Morristown Line of New Jersey Transit provides commuters with direct access to New York Penn Station and to Hoboken Terminal.
If you own a historical or older home in Morris Plains, you know how delicate some of the construction materials are and how they need to be treated with care when restoring or cleaning them. Old brick can easily crumble under powerful water pressure conditions.
Our New Jersey power washing experts at TruClean Wash understand that old surfaces like bricks and other materials need special technique when it comes to restoring the beauty. We have the experience to provide you with professional cleaning results geared toward each surface of your home.
Residential Pressure Washing and Cleaning Services in Morris Plains
Our services include:
Roof Cleaning Services in Morris Plains
The roof of your home may not get very much attention, which is common for everyone due to our busy lives. We tend to take care of our homes very well, but the roof top endures some significant damage from temperature change and damage from debris that we don't realize is going on.
As roofing materials get hot from the sun, the shingles expand, and then when it cools down at night, they contract. So after every day of going through all this movement, over time they get old.
If left alone to collect debris, it only cuts the life of the shingles down significantly. Cleaning the roof at least a couple of times a year will help to keep the life of your roof as long as it should be. Pressure washing is a technique used commonly to clean dirt, debris, and stains from roof tops.
Softwashing Services in Morris Plains
Some materials can't handle the stress of a real power wash, so a softwashing technique is used. When softwashing, a chemical is applied with a lower pressure power washing. At TruClean Wash, we like to use environmentally friendly chemicals in our softwash services.
The softwash pressure is still higher than you can get from your garden hose, but is softer than higher powered washing.
Commercial Exterior Cleaning in Morris Plains
When you have a business and you need an exterior cleaning service, you need someone you can trust who has the experience to know what it takes when working on commercial property.
You'll want to ensure as little interruption and inconvenience to customers as possible, as well has have the job done right and on time. TruClean Wash professionals have all the experience you need when it comes to commercial exterior cleaning. Let us help you spruce your property back up and get it to shine again. You're customers will love the change!
*Sources: http://en.wikipedia.org/wiki/Morris_Plains,_New_Jersey
Importance Of Regular Metal Roof Cleaning

Metal roofing is noted for its unmatched performance, making it one of the best roofing options for your New Jersey home. Of course, to continue enjoying all the benefits that a metal roof offers, in […]

Important Reasons to Remove Rust from Your Metal Structures

If you own a metal building or other structure, then chances are you're going to experience the headache of rust development on that structure at some point down the road. When that point comes, you' […]
Reviews & Testimonials on TruClean Wash in Morris Plains, NJ
There are currently no reviews or testimonials for Morris Plains, NJ. Check back soon!
If you are looking for a professional Morris Plains power washing contractor for roof cleaning or other exterior cleaning services then please call TruClean Wash today.