Local Mendham Township Power Washing & Roof Cleaning Professionals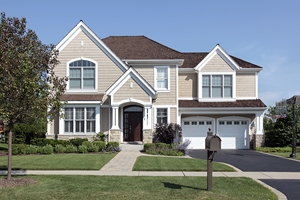 Older homes need appropriate techniques and handling when it's time to deep clean the exterior surfaces. If you own a home that is made of natural stone, stucco, wood, or other surfaces that need special treatment, you need to be sure that your Mendham Township power washing company understands the materials and how to treat them to get them clean.
When repairs or upgrades are made on older homes, the owner must ensure that the contractor knows to use the right tools to ensure the integrity of the structure. Too much water pressure when cleaning can destroy these delicate surfaces.
If you are truly looking for expert pressure washing services that also care for delicate surfaces, you've come to the right place. With over a decade in the business, our professional New Jersey power washing contractors here at TruClean Wash are your local experts.
Roof Cleaning Services in Mendham Township
When your roof has an accumulation of debris and moisture, the structure of the roof can be at risk. Rot, mold, mildew and other issues cause the roof to be damaged extensively. Acorns, leaves, dead parts of trees, dirt, soil, or grime only work together with the weather conditions to create an area where its easy for the roofing materials to rot away. And once rot or mildew starts, it is very hard to get rid of.
Professional roof cleaning services are what you need to get your roof back to where it aught to be. Only professionals will know just how much pressure or what other techniques are needed to expertly clean your roof. TruClean Wash is your local expert, professional Mendham Township roof cleaning contractor.
Residential Pressure Washing and Cleaning Services in Mendham Township
The exterior of our homes need to be regularly cleaned as well, just like the inside. Your sidewalks and decks need regular sweeping and need maintenance from time to time.
Your exterior surfaces also need to be professionally cleaned so they keep looking good. One way to keep them clean is with pressure washing in Mendham Township . This is the most common method to cleaning the exteriors of our homes with a force powerful enough to remove old stains and heavy debris.
Commercial Exterior Cleaning in Mendham Township
If you own a commercial building, you will want to make sure your curb appeal is at its maximum so that you attract potential customers. When the exterior of your business looks dirty, your whole building will look worn down and old. Cleaning it up to where it should be will do wonders for enhancing your curb appeal.
When sidewalks and walls are dirty from the weather or other issues like smog, pressure washing services are the best way to go. Sometimes we get so busy with running our company that we forget what the building really looks like on the outside. We get used to seeing certain things every day to where we no longer notice them.
Take a fresh look at your commercial property to see if maybe there's more you can do to attract customers. Customers always want a clean atmosphere, yet many businesses neglect to clean. Don't let your business exterior surfaces turn away your potential customers, get your power wash service today.
Importance Of Regular Metal Roof Cleaning

Metal roofing is noted for its unmatched performance, making it one of the best roofing options for your New Jersey home. Of course, to continue enjoying all the benefits that a metal roof offers, in […]

Important Reasons to Remove Rust from Your Metal Structures

If you own a metal building or other structure, then chances are you're going to experience the headache of rust development on that structure at some point down the road. When that point comes, you' […]
Reviews & Testimonials on TruClean Wash in Mendham Township, NJ
There are currently no reviews or testimonials for Mendham Township, NJ. Check back soon!
If you are looking for a professional Mendham Township power washing contractor for roof cleaning or other exterior cleaning services then please call TruClean Wash today.