Fairfield Power Washing & Roof Cleaning Pros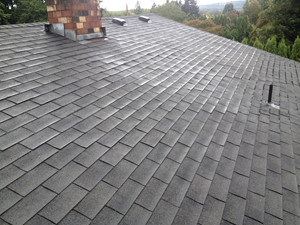 Many Fairfield, New Jersey homes have faced many years of our weather conditions and stood up well. And that's a good thing because in our area of the country it's important to keep the surfaces protected from the weather. With all the humidity and salty air with plenty of sunshine, rain, and wind, we have the right combinations to wear down the surfaces of our homes and businesses quickly if they're not sealed. Older homes are more susceptible simply because they're older and over time the building materials age and become more delicate. Whether your home is older or newer, it's equally important to keep the surfaces clean as well because grime and debris only quicken the degradation process.
The difference between older or newer surfaces is that they are handled differently when professionally cleaned. Professional Fairfield power washing companies like us here at TruClean Wash, understand all the surface types and needs of the materials on your exterior.
Residential Pressure Washing and Cleaning Services in Fairfield
Our New Jersey power washing experts know just how to treat each surface of your home, whether it needs a delicate touch or can stand up to a full power pressure washing in Fairfield . We are thoroughly trained and background checked professionals who have the knowledge necessary to serve you.
For more than a decade, we've provided residents with professional pressure washing services that we're proud of. If your home is looking a little duller than it used to, consider giving a good cleaning with our services:
Commercial Exterior Cleaning in Fairfield
Do you own a commercial property in Fairfield? If so, you know how important it is that your business exterior is clean and attractive to your customers or passers -by. You know it should be kept clean and look attractive for potential customers.
If your property is stained from being neglected for a couple of years, it's time to get it cleaned up and looking right again. You'll be amazed at the difference we can make with a professional service from one of our experienced technicians.
At TruClean Wash, we have the experience you need to thorough clean the exterior of your commercial property. We follow all the safety protocols, are thoroughly background checked. We are licensed and insured for your protection.
Give us a call and we'll renew the look of your business exterior…you'll hardly believe your eyes when we're done! Take care of your property now and it will be bigger returns when you attract more customers!
Importance Of Regular Metal Roof Cleaning

Metal roofing is noted for its unmatched performance, making it one of the best roofing options for your New Jersey home. Of course, to continue enjoying all the benefits that a metal roof offers, in […]

Important Reasons to Remove Rust from Your Metal Structures

If you own a metal building or other structure, then chances are you're going to experience the headache of rust development on that structure at some point down the road. When that point comes, you' […]
Reviews & Testimonials on TruClean Wash in Fairfield, NJ
There are currently no reviews or testimonials for Fairfield, NJ. Check back soon!
If you are looking for a professional Fairfield power washing contractor for roof cleaning or other exterior cleaning services then please call TruClean Wash today.