Are You in Need of an East Rutherford Power Washing Professional?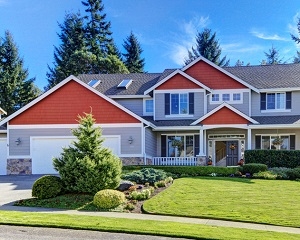 When it comes to keeping the exterior of your home clean and looking great, you cannot go wrong in scheduling a visit from a power washing and softwashing professional. An East Rutherford power washing contractor can completely eliminate years of build-up of grime, mildew, mold, and rust stains, returning your home's luster. You may not need to replace your roof, siding, or concrete if you're looking to give your home's value a boost, when power washing by professionals with the right equipment and experience can make all the difference.
Turning to the expert staff at TruClean Wash means getting the service of New Jersey power washing and softwashing experts that have years of experience. We use a special blend of chemicals to rinse away buildup on your home without risk to your exterior or the environment. Exterior washing should only be attempted by someone with the right equipment and know-how, as a normal pressure washer can actually cause undue damage to your roof, siding, and concrete unless carefully handled.
Exterior cleaning services we offer in the East Rutherford area include:
If you're ready for the best in power washing services in East Rutherford, NJ, do not hesitate to give TruClean Wash a call today at 973-447-4450 to schedule an appointment!
East Rutherford Deck Cleaning & Refinishing
Your deck can show age rather quickly if it isn't properly finished, and it is also especially susceptible to mildew and mold growth which can damage its organic structure. To avoid damage to your deck and to preserve its appeal, you need to have it routinely refinished every few years. By scheduling a visit from our deck experts, we can maintain your deck's look and help protect it from rot and general wear, drastically increasing its lifespan. Call TruClean Wash today to schedule service with our East Rutherford deck cleaning and refinishing specialists.
East Rutherford Gutter Cleaning
If your gutters have been overflowing every time that it rains, then you should see about having them cleaned. Clean gutters actually help protect your home from potential water damage, and are an important part of maintaining and ensuring that your investment is safe. If water is allowed to gather around your home from clogged gutters it will permeate your foundation, leading to cracks, leaks, and expensive water damage that you will have to repair.
Importance Of Regular Metal Roof Cleaning

Metal roofing is noted for its unmatched performance, making it one of the best roofing options for your New Jersey home. Of course, to continue enjoying all the benefits that a metal roof offers, in […]

Important Reasons to Remove Rust from Your Metal Structures

If you own a metal building or other structure, then chances are you're going to experience the headache of rust development on that structure at some point down the road. When that point comes, you' […]
Reviews & Testimonials on TruClean Wash in East Rutherford, NJ
There are currently no reviews or testimonials for East Rutherford, NJ. Check back soon!
If you are looking for a professional East Rutherford power washing contractor for roof cleaning or other exterior cleaning services then please call TruClean Wash today.