Deck Cleaning & Refinishing - Protecting Your Investment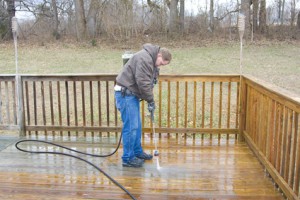 Having a deck, as a New Jersey homeowner, is a great way to truly enjoy the great outdoors of your very own property. The problem is that the average homeowner does not invest the work needed in order to keep that deck in tip top shape for years to come. Your home is an investment and everything you do to improve it can add value to your home, including adding a deck. However, without proper care, your deck can have the opposite effect and end up detracting from the value if it becomes an eye sore and a fixer upper project for someone to take care of. This can be avoided by investing in proper refinishing and professional deck cleaning in New Jersey.
What is Involved
When you hire a New Jersey power washing company to take care of your deck cleaning and refinishing, you should be able to feel confident that they will be a part of helping you protect this part of your home. This is all an essential part of deck restoration, regardless of whether your deck is made of wood or composite material. The problem is that most people think simply washing off the surface once in a while is enough maintenance and upkeep, but there is a lot more to it than that if you want to truly prolong the lifespan of your deck.
With proper, extensive deck cleaning in New Jersey and refinishing when needed, you can keep your deck in the best condition possible, for years to come. There are contaminants, like mildew and mold, that can develop and begin to eat away at the deck material and simply taking a hose to the surface can not do away with this. You need professional pressure washing – and not the type that you rent from a home improvement store that does little more than move leaves around.
Expert level cleaning will help ensure that you get the results you want and deserve. Don't take chances when it comes to the care and service that you get for your deck. All you have to do is find local experts to take care of this for you – like our crew here at TruClean Wash.
New Jersey Deck Cleaning Service That Counts
At TruClean Wash, we understand that your life is hectic and taking care of certain tasks is just not possible. That is where we come in. We have the training, skills, experience and equipment needed to take care of these tasks for you. So if you are looking for a professional team of experts to take care of your New Jersey deck cleaning and refinishing, give TruClean Wash a call today!
Do you need deck cleaning in New Jersey? Call TruClean Wash today.