Why You Should Hire a Professional New Jersey Pressure Washing Contractor to Clean Siding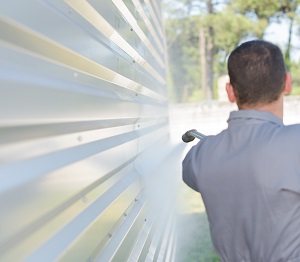 Every property owner, at some point in time, faces the same conundrum. How should you go about cleaning the siding of your home or business? One of the first thoughts many people have is to rent a pressure washing machine. Unfortunately, for many that go through with the project themselves, the results can be more harm than good.
When you decide to clean the siding of your home, it is always best to hire a professional New Jersey pressure washing contractor. At TruClean Wash, our New Jersey power washing contractors are here to help. Our team has been providing exceptionally high quality property cleaning services to local residents and businesses for over a decade. As such, we have the knowledge, skill, and experience necessary to achieve all of your goals.
Call TruClean Wash today if you need to hire a professional pressure washing contractor to clean the siding of your home. Our staff is ready to assist you and to answer any questions that you may have about our services. We can schedule your appointment today.
Pressure Washers in Inexperienced Hands Can Damage Siding
The pressure washing method was developed to clean difficult stains from hard surfaces like asphalt, concrete, and wood. Siding, in contrast, is relatively delicate. Using too much pressure at too close of a distance can blast siding materials off of your home.
Likewise, because there are vents and grooves within siding, using a pressure washer in the wrong way can cause moisture to get between you siding and the wood within your property. Once this moisture is trapped, it will remain in your home for a long time and can cause significant damage.
Experienced Pressure Washing Contractors Know the Best way To Clean Siding
When you hire our experienced New Jersey pressure washing contractors, you will not have to worry about your siding being damaged. Our team customizes the method that we use to the particular surface being cleaned and the stains we are lifting.
Depending on your unique situation, our property cleaning experts will adjust pressure settings and distances. Also, we can utilize chemicals and cleaning agents to deal with the types of stains that are on your siding. Our team will never use our pressure washer at an inappropriate or harmful angle.
You can rest assured knowing that your siding will be cleaned in the best and safest possible manner. All you need to do is sit back and relax in order to enjoy the renewed beauty of your New Jersey home or business.
Are you looking for a professional pressure washing contractor in New Jersey? Call TruClean Wash today.