Fort Lee Pressure Washing – Hire Don't Rent!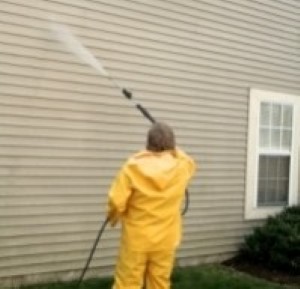 It is great to see so many homeowners who want to get proactive when it comes to taking care of their house, including pressure washing for their Fort Lee home. The problem is that some tasks should not be taken care of as a DIY project and this happens to be one of them. So why is that? Well, for one thing the power washer you can rent from your local location of a big box home improvement store is not the same quality as the one professional Fort Lee pressure washing companies use.
So right away, you are not getting the same level of clean you need. If you simply need something that can scatter leaves around the driveway, then by all means take this on yourself. But for a level of clean more intense than that, you need to call on trained, experienced experts who have the necessary equipment to get the job done. If you do manage to find a higher grade washer to take care of your cleaning needs, this is a job that can be dangerous without training and expertise.
What Can be Cleaned with a Pressure Washer
Generally, a good New Jersey power washing company will take care of washing the entire exterior of your home. So make sure when you interview prospective companies for this work that you find out what they are including in the quote they provide you with.
Decks – Your deck can age so quickly and even more so if you don't take care of proper cleaning. Remove obvious dirt and debris but also help cut down on the likelihood of mold and mildew.
Driveways – Oil, anti-freeze and other substances can leak and make your driveway look unsightly. Yet this is also a potential threat for slipping on or for animals to come in contact with and can cause illness or fatality.
Siding – While durable, it can be susceptible to dirt and mildew which can make it look aged and unsightly long before it's time. Help renew the look by freshening it up with this type of wash.
Rely on the Experts for Pressure Washing in Fort Lee
At TruClean Wash you can feel confident about the level of clean and the level of care that you can get. We are dedicated to offering the finest in workmanship and customer service there is. Contact us today to find out more about how our professional level of service is far better for your home than renting your own equipment. When it comes to your Fort Lee pressure washing service needs, you can count on TruClean Wash to get the job done.
Are you interested in hire us for pressure washing in Fort Lee, NJ? Call TruClean Wash today.