4 Hot Reasons Summer Is The Perfect Time To Pressure Wash Your Home & Deck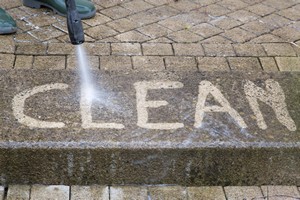 The winter and spring months can be quite rough on some of the exterior surfaces around your home, and with summer finally here, you might be ready to brighten up your home and get it looking its best, and one of the best ways to do so is by investing in a high quality pressure washing for your property performed by an experienced professional. The summer months are actually the ideal time to have the various surfaces of your home power washed for a number of different reasons.
With summer barbecues, family get-togethers, and many other social activities on the horizon, now is the time to put in the effort to beautify your home. Hiring an experienced professional to give the exterior of your home and deck a high quality cleaning that will be sure to impress.
Don't wait any longer to get the high quality clean you need for the exterior of your home and deck, take advantage of it now while the time is right. If you are still on the fence about it, take the time to read through this short list our team of professionals have put together highlighting just a few of the best reasons to invest in a high quality pressure washing for your home and deck areas this summer.
Perfect Weather
The summer months really are the ideal time to have any pressure washing work done on your home. Because the sun is rising earlier and going down later now, the extra hours in the days provide more time to get things done, and while this can mean more time by the water or just enjoying the outdoors, it also means that there is ample time in the day to get those outdoor projects done. Summer is generally a bit dryer than spring, and that goes a long way in making it the ideal time to pressure wash your New Jersey home.
Summer means that larger jobs can be completed in the course of a single day, as opposed to requiring multiple days during some of the other times in the year, and errant spring showers and falling leaves from fall and winter won't be something you need to worry about coming down and undoing all of your work.
Lasting Results
The abundant sun and less intense rains during the summer actually mean that your freshly washed property is likely to stay cleaner for longer, helping you get more from your investment. The harsh rains in spring can really wear on the surfaces of your home, and the falling debris that you normally have to deal with in fall and winter can make it appear like you never had the job done in the first place. In addition, during the summer months, you won't have to worry about as much pollen in the air, and that means that you can count on your home to stay clean for longer after your wash.
Defeat Mold & Mildew
Summer certainly brings its share of rising temperatures, and with the abundant rainfall over the spring months, now is likely the time that you will look around your home and find mold and mildew starting to grow. The leftover moisture and the heat of summer provide mold and mildew with the ideal growing conditions, but with a high quality pressure washing, these unsightly and potentially damaging growths on the exterior of your property can be a thing of the past. Mold and mildew, in addition to ruining the look of your home's exterior and your deck, will make the surfaces slippery and can cause the allergies of anyone in your family and your friends to go ballistic if they aren't cleaned away properly.
Preserve Your Property
Investing in a professional pressure washing service this summer not only helps to keep the exterior of your home and deck area looking good, but by removing any harmful materials like mold, mildew, and a number of other contaminants, you are also helping to preserve the quality of your property. Most of these deposits will shorten the lifespan of your surface materials given enough time, but with a quality pressure washing performed by an experienced professional, you can have peace of mind in knowing that the exterior of your home is well protected and set to last you for a long time to come.
If you are looking for a power washing professional in New Jersey, call TruClean Wash today.